Market
Developer Dmitry Baskin Completes Boston's First Passive Houses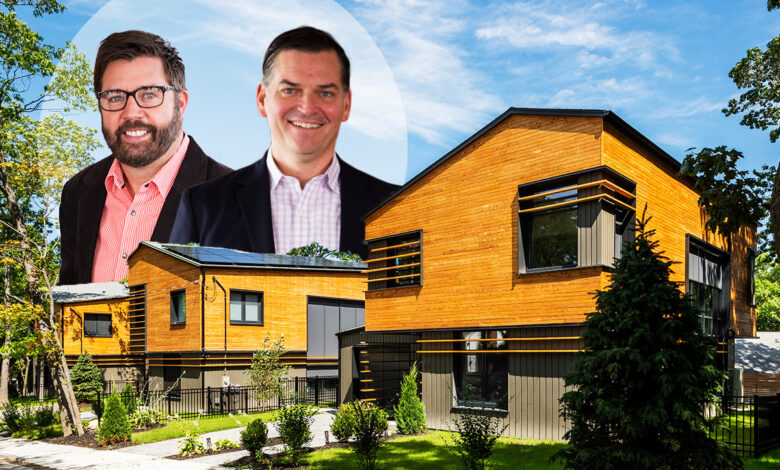 Shorts in the winter, and a negative electricity bill  ––  it sounds like the land of milk and honey.
In reality, it's Boston. That's at least for the owners of the city's first certified passive houses. 
Since spec developer Dmitry Baskin completed the three spec homes, the buyers say they've hardly touched the thermostat, and the buildings operate so efficiently that the city owes at least one couple money, the Wall Street Journal reported. 
Baskin, who heads Boston-based Passive House Construction, partnered with Eric Robinson and Kevin Deabler's Rode Architects to develop three single-family homes built to passive house standards. The four-bedroom, three-bathroom houses, at 55, 59 and 63 Brucewood Street, received their passive house certification from the CertiPHIers Cooperative after finishing construction last year. 
All three homes have solar panels installed, and use airtight construction and shading to maintain the internal climate. The houses eschew traditional heating and cooling systems in favor of small heat pumps and an energy recovery ventilation that circulates fresh air, according to the publication. 
The green technology means the homes operate extremely efficiently, providing huge reductions for the owners' energy consumption and the utility bills that typically accompany them.
"This winter it got freezing, and we were in our shorts," Amod Athavale, one of the homeowners, told the outlet. Athavale bought a 2,500-square-foot passive spec home with his wife, Manasi Datar, for $1.4 million last year. Despite this summer of record heat, the couple has maintained their home's temperature with just a few hours of air conditioning a day.
Athavale told the outlet that their electricity bill currently has a negative balance around $1,000, meaning the utility provider owes them that amount.
Baskin's other two passive spec homes sold for $1.4 million and $1.5 million, Redfin shows. When he bought the site in 2017, Baskin's plan was to develop three duplexes, the outlet reported. As he started to pursue approval for the project, it became clear that the neighborhood was against multifamily development, so he pivoted to single-family homes.
Money made the decision to build passive houses –– Baskin needed something to set these homes apart so he could sell them for a premium and make development a viable investment, according to the outlet. Deabler, who sits on the advisory board of University of Maine at Augusta's Architecture School, suggested passive houses after hearing that there were successful examples up north. 
Embarking on the project meant "diving into the deep end of building challenges," he told the outlet. Mike DelleFave, an associate and architect with Rode who worked on the project, said building to passive standards increases construction costs between 10 and 15 percent. 
The sustainability marketing play paid off. All three homes went into contract during construction. 
Now, Baskin, Deabler and Robinson want bigger and more passive house development. The partners are planning a 30-acre passive house project in Stoughton, Massachusetts with 18 single-family homes. 
DelleFave said, "It's hard to go back to those traditional building methods when you know that there's a better way."
— Kate Hinsche
Source link