Arts & Theater
Online Reading of The Gaza Monologues by Ashtar Theatre Palestine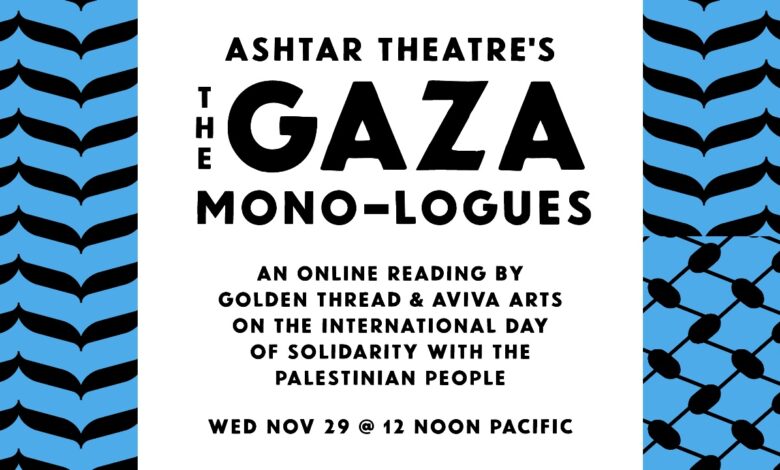 Golden Thread Productions and Aviva Arts are collaborating in their response to the urgent call put out by ASHTAR Theatre to theatre makers around the world to publicly read or perform The Gaza Monologues on 29 November 2023, the International Day of Solidarity with the Palestinian People – a significant day for those who value justice, equality, and freedom for the Palestinian people. 
The Gaza Monologues are testimonies written by ASHTAR youth in 2010, after the first war on the Gaza Strip. Tragically, these monologues are still accurate today. They are highlighting the horrors, hopes, and resilience of the courageous Gazans to a wider audience, bringing out the voices of children and people in Gaza.
Golden Thread and Aviva Arts' reading of The Gaza Monologues will be presented in multiple languages.
 
About HowlRound TV
HowlRound TV is a global, commons-based, peer-produced, open-access livestreaming and video archive project stewarded by the nonprofit HowlRound. HowlRound TV is a free and shared resource for live conversations and performances relevant to the world's performing arts and cultural fields. Its mission is to break geographic isolation, promote resource sharing, and develop our knowledge commons collectively. Anyone can participate in a community of peer organizations revolutionizing the flow of information, knowledge, and access in our field by becoming a producer and co-producing with us. Learn more by going to our participate page. For any other queries, email [email protected] or call Vijay Mathew at +1 917.686.3185 Signal. View the video archive of past events.
!function(f,b,e,v,n,t,s){if(f.fbq)return;n=f.fbq=function(){n.callMethod? n.callMethod.apply(n,arguments):n.queue.push(arguments)};if(!f._fbq)f._fbq=n; n.push=n;n.loaded=!0;n.version='2.0';n.queue=[];t=b.createElement(e);t.async=!0; t.src=v;s=b.getElementsByTagName(e)[0];s.parentNode.insertBefore(t,s)}(window, document,'script','https://connect.facebook.net/en_US/fbevents.js');
fbq('init', '687348145509629', [], { "agent": "pldrupal-8-10.1.5" });
fbq('track', 'PageView', []);


Source link