News
Israel's Netanyahu Is Defying the U.S. and Biden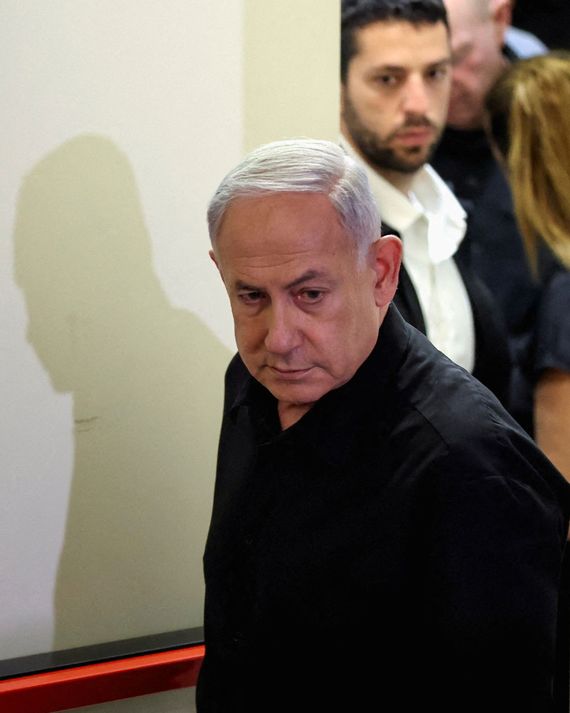 Photo: ABIR SULTAN POOL/Pool via REUTERS
The first month of Israel's war against Hamas was marked by the highest-profile support ever from an American president with Joe Biden sweeping into Tel Aviv, where he bigfooted Prime Minister Benjamin Netanyahu. Israelis treated Biden like a savior after their government failed to foresee or prevent Hamas from slaughtering 1,200 people and shirked responsibility for the attack.
Immediately after October 7, Netanyahu went into virtual hiding. He was unpopular with Israelis and with the Biden administration before the war thanks to a proposed "judicial reform" that would have upended Israel's system of government, and possibly saved him from his corruption trial, which is still underway. Seventy-six percent of Israelis believe he should resign as a result of perceived mistakes and misconceptions that allowed Hamas' assault to be so lethal.
Now, as the war killing thousands extends deep into a second month, the man known as "the Magician" for slipping out of political traps is trying to wriggle loose again by directly confronting the United States and, according to one former and one current U.S. official, angering the Biden administration.
"For the first three weeks, Netanyahu was asleep," said Gideon Rahat, a professor at Hebrew University who specializes in Israeli politics. "He just couldn't function." When Netanyahu woke up, Rahat said, he realized that Biden had replaced him as the leader Israelis turned to in their anguish. "He didn't like hearing 'Biden, Biden, Biden' everywhere, and now he's trying to get back into it. He wants to be the focus."
During a press conference on Sunday, Netanyahu touted a "diplomatic Iron Dome" and said he would not give in to "increasingly heavy pressure … used against us in recent weeks" to cease fighting, agree to future Palestinian stewardship of the Gaza Strip, or agree to a deal that would see hostages exchanged for Palestinian prisoners held in Israeli jails. "I reject these pressures and say to the world: We will continue to fight until victory — until we destroy Hamas and bring our hostages back home."
"No one thinks that at the end of this Netanyahu will still be around," the U.S. official said, echoing Israeli sentiment. "It just doesn't seem possible, whenever this winds up. He's not taking any responsibility, but he's trying to reposition himself for political survival. It's incredible." (The White House did not respond to a request for comment.)
Over the past week, Netanyahu has openly defied the U.S., by far Israel's most important ally, on every war-related issue except the goal of eradicating Hamas. He declared that Israel would retain "security control" for Gaza "indefinitely," leading Biden to say occupying Gaza would be "a big mistake." Secretary of State Antony Blinken also underscored that there should be "no reoccupation of Gaza after the conflict ends. No attempt to blockade or besiege Gaza. No reduction in the territory of Gaza."
Hours before Netanyahu spoke, Biden wrote in the Washington Post that "Gaza and the West Bank should be reunited under a single governance structure, ultimately under a revitalized Palestinian Authority, as we all work toward a two-state solution."
Netanyahu's speech on Sunday appeared to be a direct rebuke, according to Chaim Levinson, a political analyst for the left-leaning daily Haaretz and an old Netanyahu hand. He wrote that Netanyahu's repositioning was now clear: "Mr. Security is dead; Mr International is born … He can no longer run for reelection on a platform promising to deter Hamas and prevent ISIS from reaching Sderot; his ticket is the Palestinian Authority. Netanyahu will eliminate it. He will prevent Biden and Blinken from letting it into Gaza."
Netanyahu has rejected the return of the Palestinian Authority, which was ousted from Gaza by a violent coup in 2007, telling NBC News that "a different authority" would have to take over after the anticipated defeat of Hamas. His extremist, ultraright finance minister, Bezalel Smotrich, commended the prime minister for "clearly" stating that the "Palestinian Authority is a body that supports and encourages terrorism."
"There's no difference between Gaza and Ramallah," Smotrich said in a radio interview on Monday. "We should all wake up to this fact. The Palestinian Authority supports terrorism and supports the terrible massacre. This war should end in a situation where there is no threat to the State of Israel. For any reason. That is victory."
Biden also wrote that he has been "emphatic with Israel's leaders that extremist violence against Palestinians in the West Bank must stop and that those committing the violence must be held accountable. The United States is prepared to take our own steps, including issuing visa bans against extremists attacking civilians in the West Bank."
"I told President Biden that the accusations against the settlement movement are baseless," Netanyahu said on November 9, dismissing American pleas that Israel curb a swelling wave of violence in the occupied West Bank, which is governed by the Palestinian Authority and dotted by Israeli settlements. He portrayed the violence is coming from a "small extreme minority," not the settlement movement.
"His comments about Palestinians particularly riled us up," said a U.S. official familiar with relations with the Israeli government. Netanyahu's words, in the official's opinion, "were unnecessary given what we are trying to do for him and the support we've given him."
The U.S. effort to consolidate Arab support for a transitional force that could administer Gaza after the war ends depends on Israeli acceptance of the legitimacy of the Palestinian Authority. Such a pivot that would challenge Netanyahu's ability to keep his narrow, extremist coalition government intact. Indeed, huge banners have appeared along Israeli highways in recent days, apparently paid for by Netanyahu supporters, showing Palestinian president Mahmoud Abbas wrapped in a Hamas bandana, captioned "The Palestinian Authority = Hamas."
Yonatan Freeman, a Hebrew University expert on international relations, saw the possibility of a political-diplomatic gambit in Netanyahu's vague statements opposing clear U.S. positions. "Netanyahu's refusal to get down to the nitty-gritty leaves him significant wiggle room. He could later say, 'Yes, we said no Palestinian Authority will be here, but we forced them to do this; they've accepted that …' He's got an out." Freeman pointed to Netanyahu's declaration two weeks ago that "'no fuel will enter Gaza,' but there was an asterisk. And fuel is entering Gaza. So I wouldn't take this too far. They say 'Never!' and in the end they do it."
Aaron David Miller, a longtime U.S. negotiator between Israeli and Palestinians and a senior fellow at the Carnegie Endowment for Peace, also downplayed the significance of public tensions compared to the American support of Israel's war. "I see growing frustration in the White House in the past few weeks on any number of issues, but the main frame has remained the same: The United States is prepared to give Israel time and space and the support they need to achieve what it still a common objective, the collapse of Hamas as a military force in Gaza," he said.
Source link