News
House GOP Forges Ahead on Doomed Biden Impeachment Effort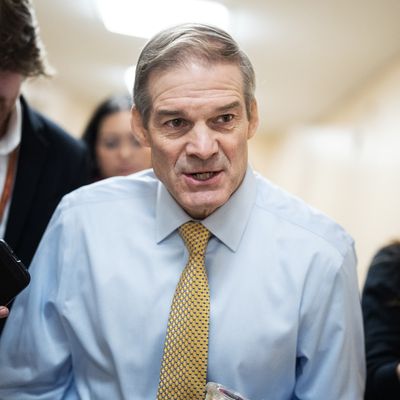 The implacable Jim Jordan.
Photo: Tom Williams/CQ-Roll Call, Inc via Getty Images
The struggle to keep the federal government open isn't the only task exposing deep dysfunction among House Republicans. Speaker Mike Johnson is also dealing with MAGA demands to impeach Joe Biden over shadowy allegations that he abused his office to benefit his family's business ventures. Having deeply displeased members on his right flank by relying on Democratic votes to pass a stopgap spending measure, Johnson isn't about to get in the way of their determination to go after the president on dubious charges, just as they believe Democrats did to the GOP's idol, Donald Trump, four years ago. It's a particularly high priority for one of Johnson's predecessors as Speaker nominee, Jim Jordan, who chairs the House Judiciary Committee.
As Politico Playbook explains, the impeachment inquiry launched by former Speaker Kevin McCarthy in September is now headed for a moment of truth in January:
 As they continue their investigation into Joe Biden and family, House Republicans are working to tie up loose ends on its impeachment inquiry by the end of the year. Amid continued skepticism from GOP-centrists, the conference plans to depose Hunter Biden in December with proponents pushing for a vote on impeachment articles as early as January.
They could use a little more evidence of wrongdoing, Politico suggests:
Republicans would likely accuse the president of improperly using his political office to further his family's business dealings — though they haven't yet found a smoking gun to that effect and some members acknowledge that seems increasingly unlikely. Impeachment advocates are still probing other issues as well, such as the federal investigation that resulted in a failed plea deal for Hunter Biden.

"We get those depositions done this year and … then we can decide on whether or not there's articles," House Judiciary Chair Jim Jordan (R-Ohio) told POLITICO, predicting that decision would happen early next year …

Republicans aren't putting all their bets on the one basket. They've hinted that they could also draw obstruction allegations into the impeachment articles, citing any refusal by the Biden administration to cooperate.
If they choose to follow the precedent set by Nancy Pelosi leading up to Trump's first impeachment in December 2019, House Republicans will need a preliminary vote of the full House to set formal rules and procedures for impeachment. Both then and in any subsequent vote on articles of impeachment recommended by the Judiciary Committee, the GOP would need to utilize its four-vote majority to the fullest. That's very unlikely. Eighteen House Republicans are in districts Biden carried in 2020; voting for his impeachment could make some of them sitting ducks, and conversely, splitting with their party on impeachment may be just what the political doctor ordered.
So while MAGA representatives are excitedly anticipating formal impeachment proceedings as a New Year's treat, other Republicans may simply be hoping to quickly get to the point where would-be impeachers can see they don't have the votes and agree to fold their fulminations about the "Biden crime family" into the 2024 pro-Trump messaging they are already promoting. Needless to say, if articles of impeachment somehow do make it through the House, they will be DOA in the Democratic Senate, where a two-thirds vote would be necessary to secure a conviction. If Trump wasn't convicted in 2021 after publicly leading an insurrection in full view of the world, Biden certainly is safe barring some really shocking revelations.
Source link