Religion
Claiborne, Barber, Budde among Christian leaders calling for Gaza cease-fire at White House vigil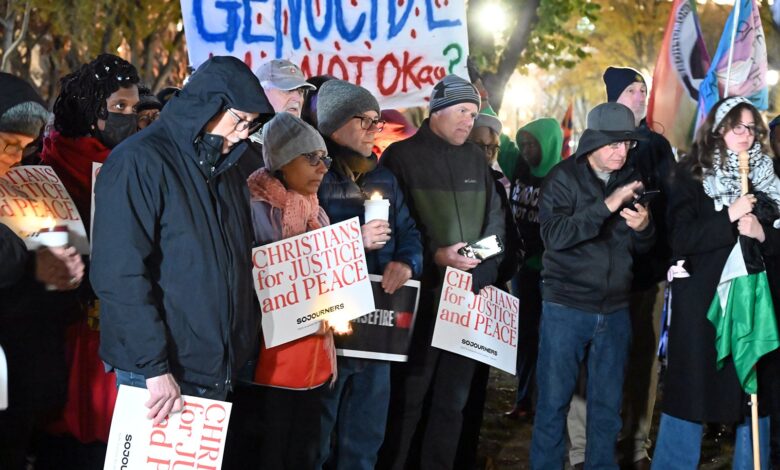 WASHINGTON (RNS) — A group of Christian leaders hosted a vigil outside the White House Monday evening (Nov. 20) to call for a release of Israeli hostages kidnapped by Hamas terrorists last month and to urge President Joe Biden to advocate for a cease-fire in Gaza.
"We pray that all those held hostage — unjustly — in prison, may be free. We pray for all the bombing and the killing to stop, for aid to reach those in greatest need," said Bishop Mariann Edgar Budde, head of the Episcopal Diocese of Washington. She stood surrounded by dozens of clergy and activists, many holding signs and candles.
She added: "We pray for lasting peace. We pray for the peacemakers."
She was followed by a litany of Christian clergy and activists at the event, which was facilitated by Churches for Middle East Peace. Many hailed from denominations and organizations that have advocated for versions of a cease-fire for weeks: The National Council of Churches, which comprises 37 member communions representing some 100,000 Christian congregations nationwide, released a statement in mid-October calling for "both Israelis and Palestinians to cease hostilities."
But the Rev. Leslie Copeland Tune, NCC's chief operating officer, was one of several speakers who noted at the vigil that the violence in the Holy Land has only escalated since around 1,200 Israelis were killed in the initial Hamas attack, per the Israeli government, and roughly 240 taken hostage. More than 13,000 people have been killed in Israel's subsequent ground assault into Gaza, according to the Health Ministry in the Hamas-run enclave.
---
---
"We have seen evil. We are witnessing unimaginable harm and loss of life," Tune said during a prayer before the group, directing her words to God. "There is destruction and devastation everywhere and peace seems far off at best and impossible at worst — but we know that there is nothing impossible with you."
In a separate interview with Religion News Service, Tune said she was grateful the Biden administration was advocating for "humanitarian pauses" in Gaza, as well as a potential five-day pause in fighting that could result in the release of Israeli hostages and an influx of humanitarian aid into Gaza.
But Tune insisted those steps alone were inadequate.
"It's going to do something, but it's not enough," she said.
Many speakers singled out Biden by name, criticizing him for not calling for a full cease-fire.
"Shame! Shame on you, Biden," said Lisa Sharon Harper, an activist and author who oversees the consulting group Freedom Road. She then led those at the vigil in briefly chanting the same before adding, "You must, must, must call for a cease-fire — now!"
Shane Claiborne, co-founder of Red Letter Christians, mentioned the biblical reference to "an eye for an eye," saying it wasn't meant as a "license for revenge."
"It was actually meant to limit the spiral of violence," he said, his voice rising. "What it would mean is, if you killed 1,200 people, then you couldn't kill 20,000 people in response!"
He then added: "I don't think we even have to kill at all, because there's another person that came, and his name was Jesus. Jesus said, 'You've heard it said an eye for an eye and a tooth for a tooth. Moses told you this, but I want to tell you love your enemy. You don't have to even return the harm.'"
Among the organizations listed as sponsoring the event were, among others, the American Baptist Churches USA, Evangelical Lutheran Church in America, General Board of Church and Society of the United Methodist Church, Presbyterian Church (USA), United Church of Christ, Christian Church Disciples of Christ, Friends Committee on National Legislation, Network of Evangelicals for the Middle East, Sojourners and Dorothy Day Catholic Worker Movement.
Prominent anti-poverty activist the Rev. William Barber II, a Disciples of Christ minister, participated in the event via phone, as he was unable to leave a nearby hotel due to a knee injury. In a lengthy speech, he appealed to the power of love and made reference to the ongoing protest movement in support of a cease-fire, which has included sprawling protests in Washington, D.C., and across the country.
"We must join forces with Jews and Christians and Muslims around the world who are calling for a cease-fire in Gaza, and the safe return of all hostages and civilian prisoners — and to stop the killing," Barber said.
Calls for a cease-fire have been organized by a wide array of religious and secular groups, including an interfaith coalition in Boston and a group of Catholic activists who hosted a similar White House vigil earlier this month.
Some of the most visible demonstrations — including dramatic protests resulting in hundreds of arrests — have been organized by a pair of liberal-leaning Jewish activist groups. The advocacy has sparked controversy within the broader U.S. Jewish community, which polls report overwhelmingly supports Biden's handling of the Israel-Hamas war. But a recent NBC News poll found Democrats overall are split when it comes to Biden's approach, and other surveys have reported a similar fracture among U.S. Jews aged 18-38.
---
---
Also among the speakers on Monday was the Rev. Tyrone Pitts, emeritus general secretary of the Progressive National Baptist Convention, a historically Black denomination. He began his remarks by reciting lines from "Lift Every Voice and Sing," a hymn often referred to as the "Black national anthem."
He recited the lyrics as "a reminder of the similarities between the African American people, who endured slavery segregation and Jim Crow, and our Palestinian sisters and brothers who live daily under Israeli occupation, apartheid and genocide," he said.
Pitts later called on God to compel government leaders to "beat their swords of revenge and anger into plowshares of humanitarian assistance and commit themselves to replace the destructive carnage and killing with a lasting peace of love and justice."
His remarks add to growing criticism of Biden among Black clergy when it comes to the Israel-Hamas war. Earlier this month, a group of more than 900 Black clergy took out a full-page ad in The New York Times calling for a cease-fire, with organizers of the effort telling RNS they also conveyed their misgivings to White House officials in a meeting as well as with leaders of the Congressional Black Caucus.
As Monday's vigil drew to a close, the Rev. Mae Elise Cannon, head of Churches for Middle East Peace, noted that Christian churches in Bethlehem and other parts of the occupied Palestinian territories have canceled or scaled-back Christmas celebrations in solidarity with those in Gaza. She then invited others to do the same.
"We're going to lament, and grieve, and call, and wait for justice to come," Cannon said, spreading her arms wide.
The crowd responded by bursting in a series of chants, such as "cease-fire now!" and "free Palestine!"
Source link