Shopping
$10 Off Walmart Grocery Promo Code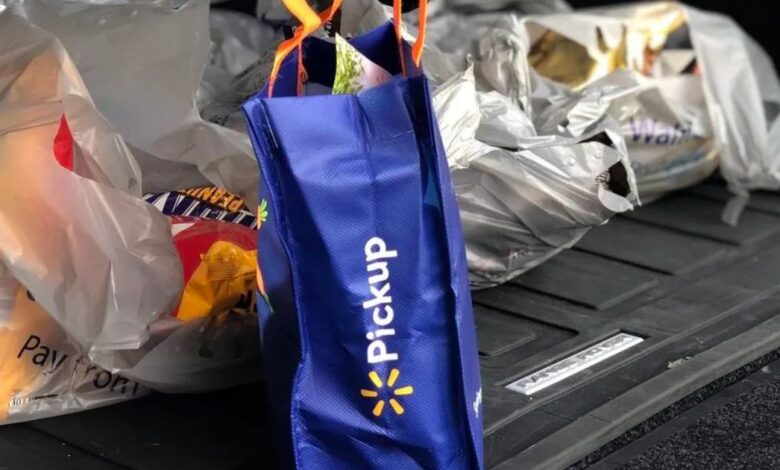 Here's the latest Walmart Grocery promo code!
Save time grocery shopping with Walmart Grocery Pickup!
Gone are the days of crowded grocery stores and long lines, now you can have groceries and more delivered right to your trunk with Walmart Grocery Pickup! This service is AH-mazing and it gets even better with extra savings from promo codes!
You can even shop online, using the Walmart Grocery Pickup promo codes below, and then just pull up to the store when your order is ready. A Walmart associate will deliver the items directly to your trunk – how's that for easy AND contactless?
Even better, Walmart Plus Members score FREE delivery on all of their orders! Head over here to learn more.
Combine Walmart's low prices with these Grocery promo codes to save BIG –
WOWFRESH – $10 off your first $50 order (new customers only)
TRIPLE20 – $20 off $50 order (eligible customers only)
TRIPLE10 – $10 off $50 order (new customers only – can be used THREE times!)
10INHOME – 10% off In-Home delivery order (select areas only)
20INHOME – $20 off In-Home delivery order (select areas only)
Do you follow a keto lifestyle? If so, check out our meal plans that can be shopped for at Walmart. It's on our sister site, Hip2Keto. Discover a FREE printable Walmart grocery list where you can click on links and add ingredients to your Walmart Grocery cart for a quick and easy pickup.
Our readers LOVE this grocery service… see why! 
This has been such a lifesaver! I did Instacart one time and they placed my original receipt in the bag and that's when I saw Instacart was $140 MORE than if I would have gone in-store, not including the tip (it was for Costco)! I was appalled.
Walmart grocery is so much more affordable and I even pay the monthly amount to have it delivered to my door so I don't have to drive anywhere…just wish they had a code for repeat customers but oh well already saving so much compared to Instacart!
1. It's a completely FREE service.
That's right – NO service fees and NO markups with Walmart Grocery Pickup! You'll pay the same prices you would if you shopped in-store and you can even shop select Rollback and Clearance items!
Just look for the red Rollback banner or the word "clearance" listed in the title while shopping.
---
2. You'll save time AND money.
Walmart Grocery Pickup is a lifesaver for busy parents! Just use the free Walmart Grocery App to shop anywhere (in bed, at home, on your lunch break, in the carpool lane, etc). Pick a time that works best for you and a Walmart employee will prepare your order so you can pick it up when it's ready!
Note that a $35 minimum order is required and you can't use coupons. However, you can use gift cards and Walmart Pickup is now accepting SNAP/ EBT credits.
---
3. Walmart Grocery Pickup is for more than just groceries.
If you're in need of a baby shower gift, school or office supplies, paint supplies, pet food, or even toys, you can purchase all of those items on Walmart Grocery! You can even buy an Instant Pot, vacuum cleaner, or an all-in-one printer – without having to go inside the store.
---
4. Substitutions are so easy!
You can choose to allow substitutions in your order, which will be made by the Walmart associate preparing your order. If an item you requested is sold out, they will offer a similar item as a substitution. You can accept, decline, or return substitution offers.
---
5. Avoid impulse purchases.
Running in-store to grab a few items can quickly escalate into a free-for-all, stuff-your-cart kind of situation! With Walmart Grocery Pickup, you're less likely to make impulse buys, so you won't be tempted to buy those candy bars at checkout or toys that the kids see while walking the aisles.
---
6. Oops. Forget something? No worries!
Forget to add toilet paper, paper towels, milk, bananas, or another item to your grocery order? With some exceptions, you can add or remove items (and even change the time/date for your order) until the day before your scheduled delivery/pickup order.
If you sign in to your Walmart Grocery account and select 'My Orders', you can see the exact cutoff time for submitting changes.
---
7. No need to get dressed or wake the kids!
Waking up grumpy toddlers to haul them into a store is THE WORST! Once your Walmart Grocery Pickup order is ready, you can drive up in your pajamas or with a car full of sleeping kiddos, and an employee will load your groceries into your car! You don't even have to get out of your car AT ALL!
NOTE – Tips cannot be accepted, but a "thank you" and a smile is always welcome. 😀
---
8. Possibly get free gifts.
If you're a new Walmart Grocery customer, don't be surprised if you receive a free goody bag while picking up your order! Several readers and friends have received a tote bag filled with samples or other freebies, which is always an added perk. Who doesn't love free stuff?!
---
Source link