News
The Public Defender Labeled a Poster Defamer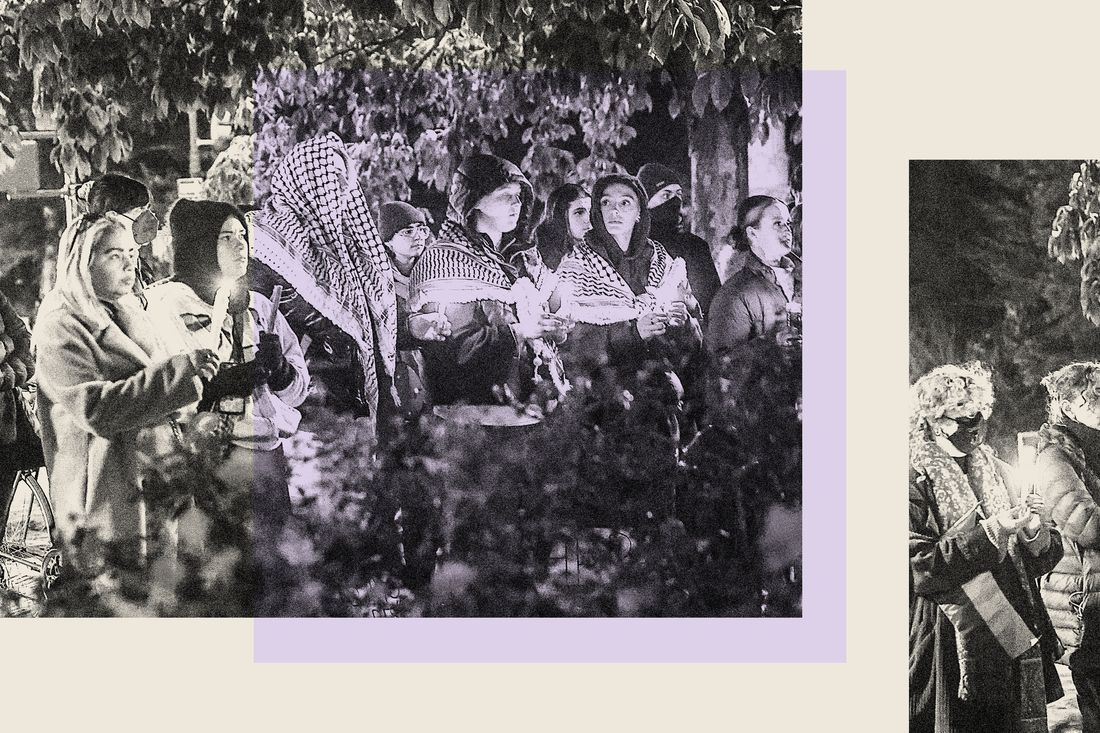 November 2: A pro-Palestine vigil at Bartel-Pritchard Square in Prospect Park.
Photo-Illustration: New York Magazine; Photo: Selcuk Acar/Anadolu via Getty Images
On the evening of November 2, a few dozen people gathered around the traffic circle at the southwest end of Prospect Park for a candlelight vigil. They were there to honor the thousands of Palestinians who had been killed by Israeli air strikes since the start of the war between Israel and Hamas.
Victoria Ruiz, a public defender with New York County Defender Services, was standing with two of her colleagues, listening to one of the vigil organizers reading off a list of the dead, when a handful of people arrived. "What about Hamas?" some yelled. According to one of the organizers, one man walked up to the altar he had made for Hala Abu Sa'da, a 13-year-old killed in Gaza, spit at it, and challenged those present to fight him. The counterprotesters began taping up posters featuring the photos of Israeli hostages of Hamas. Ruiz had seen similar posters all around the city, the ones that read KIDNAPPED with a call to bring the hostages home. The posters had never really bothered her — she wanted the hostages to be released too, just like she wanted the bombing to stop. But as she looked more closely at these posters, she read a more provocative message typed and handwritten onto them justifying the murder of Palestinians. She was suddenly overcome with emotion. How dare people come to a vigil for the dead with this, she thought.
Ruiz began ripping down one of the posters — and in the midst of doing so, she realized she was being filmed by one of the counterprotesters. As they filmed, they called out, "Why are you taking down pictures of missing children?" Immediately, Ruiz felt alarmed. Did she just get baited?
A few nights later, Ruiz and her partner were relaxing at the home of a friend after attending another pro-Palestine rally, this time in Washington, D.C., when she began receiving a flurry of phone calls from strangers and comments on her Instagram posts calling her a "Hamas terrorist" and telling her to "go back to Gaza." She quickly discovered why: Minutes earlier, the group StopAntisemitism had posted a 17-second video clip of her tearing down the posters at the vigil and identifying her by name. "It is absolutely unacceptable for someone with such bias and hate to serve in your office," the post read, tagging the account of NYCDS.
When Ruiz saw the video, her stomach dropped. "I was just, like, Damn it, now I'm in this weird crossfire," she recalled. "It made me really scared because I was like, If they were able to pick me out of that vigil, then whoever is doing this must have all my information." She also began worrying what it would mean for her job.
StopAntisemitism, which was founded at the end of 2018 by Connecticut resident Liora Rez, is not shy about its mission: to "name and shame" people the group believes are antisemitic, as Rez once put it (or "Jew-hating," to use the language of her and her supporters), so they're "met with real-world consequences including but not limited to job loss and school expulsions." In practice, that naming and shaming means unleashing a barrage of harassment on the individuals StopAntisemitism highlights on its social-media accounts — a group that includes student activists and progressive Jews who express support for Palestinians and criticize the actions of the Israeli government, beliefs that StopAntisemitism equates with antisemitism. In the wake of Hamas' devastating attack on October 7, and Israel's subsequent scorched-earth campaign, the organization has circulated dozens of videos of people tearing down the hostage posters, some of whom have since been forced to resign from their jobs or been fired. Based on how quickly many of these videos find their way to StopAntisemitism, some now suspect people are deliberately hanging these posters and waiting around for someone to come by and rip them down with the goal of creating a viral video. "I don't think that from a moral standpoint she has done anything wrong," one of Ruiz's colleagues said. "But I am so disappointed she didn't think about how this would be perceived and how this could affect her."
For Ruiz, the fallout came quickly. On November 12, she alerted NYCDS leadership, including the group's executive director, Stan Germán, and director, Carolyn Wilson, to the video. By then, they were well aware of its existence — emails had been pouring into the NYCDS inbox, and some were calling for a protest outside the organization's office. Reporters were reaching out with questions, and members of the board were telling them they needed to take the temperature way down. Ruiz emailed NYCDS staff with an apology, expressing remorse to those who were "hurt or confused" by her tearing down the posters. She added, "Please know that by no means am I trying to erase the very real and tragic fact that innocent people on all sides of this conflict are suffering."
On the 6th, Germán sent out a terse all-staff email along with a statement. "It has come to our attention that one of our attorneys, Victoria Ruiz, recently attended a public vigil solely in her capacity as a private citizen. Some of her actions at the event have drawn sharp criticism and we strongly condemn them as highly insensitive," the statement read. "After an internal review, we accept this apology as a resolution to this matter and now refocus on the vigorous pursuit of our mission: justice and dignity for every individual we represent." This statement was the first official comment leaders of the organization had made about Israel's war with Hamas, and some in the office were disappointed by its message because it allowed the media cycle to continue. "They didn't do what I think any employer should do, particularly for an employee of color — make sure their employees are safe and protected," one NYCDS attorney said of management. Calling what Ruiz did "highly insensitive" came off as "performative bullshit," as another attorney put it.
Then came the New York Post stories, which not so subtly accused Ruiz of being antisemitic and raised questions about the NYCDS decision to keep her on. If groups like StopAntisemitism have helped fuel what many are describing as a modern-day McCarthyite campaign, then the Post has regularly amplified those calls to get people fired. On the 6th, the office phones kept ringing with callers demanding Ruiz be fired. By the next morning, Germán had announced that Ruiz had resigned the previous night, writing that the decision was solely her own and one management did not want but accepted with a "heavy heart." The next day, Ruiz sent a lengthy letter to her now-former colleagues, complicating the narrative. She described facing "pressure to either resign from my job or be terminated" from management. "I did not want to be terminated, but if I had to leave, I wanted to leave on my own terms with dignity," she wrote.
Since the attacks, the New York Post has ratcheted up its heavily pro-Israel coverage with large-type headlines like "Scar of David," "Pure Evil," and "Schooled on Hate." The covers have featured everything from hostages and body bags in Israel to instances of antisemitism in the city, including swastika vandalism. They've also depicted pro-Palestine rallies as "vile."
Photo: New York Post
Before all this, Ruiz was known by many in the city as the front woman of the Downtown Boys, a leftist act signed to the influential label Sub Pop. In 2016, Rolling Stone described the group as "America's most exciting punk band." "For those tired of living in a country where it's OK to give equal weight to #AllLivesMatter and to consider abortion a crime," the story read, "you've got two choices for public events. A Bernie Sanders rally or a Downtown Boys show, and Victoria Ruiz is a better public speaker."
The qualities that drew fans to Ruiz and the Downtown Boys were also what made her good at her job. People don't become public defenders to enrich themselves, after all — they are, to a large extent, motivated by their idealism and political convictions. Around the office, Ruiz was known as the kind of lawyer whose dedication to her job and her clients was so absolute it would shame and even annoy her fellow attorneys — except, they said, you can't be mad at someone who not only is a "warm, bright light in the office," as one person described her, but also volunteers to cover your eight-hour arraignment shift when you're hung-over after a night of too much partying or goes to court for you because you're double-booked. "Nine out of ten times, she's raising her hand and she's covering for people in this office in a way that no one else even comes close," one NYCDS attorney said. The Friday before, Ruiz had won a trial, and later that day, she went straight into court to pick up more cases. "Everybody was celebrating her on Friday — and she was fired on Monday," a former colleague said.
The question of whether Ruiz resigned or was fired mirrors a dynamic that has been playing out in workplaces since October 7. Early in November, the award-winning New York Times Magazine writer Jazmine Hughes left her position after she added her name to a public letter by the coalition Writers Against the War on Gaza, a move that reportedly came when she was told by her supervisor that her only option was to resign immediately or she would be terminated. The gap between the official explanation of Ruiz's resignation and her own has troubled many at the NYCDS office. Why would she leave of her own volition when her name was everywhere in the news and she was being smeared as a bigot? "A lot of people would have understood, even though we would have disagreed, with NYCDS terminating Victoria," said another attorney. "What we are upset with is the flagrant lying."
Germán declined to be interviewed. A source close to him said he had tried to "find a path forward where she did not have to resign." But Germán was "getting a lot of heat from board members," the source added. "The board wasn't necessarily saying 'Terminate her,' but they wanted everything to die down. Everything needed to calm down." According to NYCDS board chair Lou Fasulo, by the time they came together for a hastily scheduled meeting on Tuesday, they were told Ruiz had already offered to resign. "And that was her choice," Fasulo added. The board's objection wasn't over Ruiz's stance on the war. Rather, he said, it felt the need to "condemn the action of destroying property."
Ruiz doesn't deny that she offered to resign — but only as a last resort if the board wanted to fire her, or if the organization's funding was truly at risk, according to people whom she confided in. If she had to resign, she wanted it to start with a leave of absence, followed by a formal resignation later on, once the press attention and the harassment died down. Ruiz reportedly expressed this sentiment to a supervising attorney, who then told Germán and Wilson. Shortly after, Wilson and Ruiz spoke again, and during that call, Wilson made the official position of the organization clear. "She told Victoria, 'You're going to need to resign, or we're going to be looking at termination proceedings,'" a friend who was with Ruiz at the time and listening to the conversation recalled. (NYCDS disputes this.)
After that call with Wilson, the friend said, Ruiz began crying and shaking — "like, complete panic-attack shaking." Ruiz's own attorney cautioned her that she could be fired at any time, so she decided to resign that night without signing a non-disparagement agreement. Germán has reportedly begun referring to Ruiz's resignation letter as her "manifesto," and he and others in leadership have seized on one particular detail in it, said the source close to Germán. In her initial apology to staff, Ruiz wrote that the two posters she tore down "had egregious depictions and words justifying killing children"; in her resignation letter, she wrote that "one of the posters contained handwritten statements justifying the bombing of Palestinians [sic] civilians." To leadership, this shift in language calls into question her account of the events of that evening. "They feel like she lied about what happened, and if she's able to lie about something so emotionally charged like this, of course she would lie about her interactions with NYCDS," the source said. They added, "You have to question her credibility." One employee felt this was the company's way of deflecting its own inconsistencies around how it had handled Ruiz's departure.
Several NYCDS attorneys said the way management handled the situation has made them wary of the potential consequences of attending pro-Palestine rallies and protests. "It feels like a bellwether of how management is going to deal with personal political statements of staff, at least when they get media attention, which in this current climate is terrifying," one attorney said. There may be one concrete reckoning from the fallout of Ruiz's departure: After a recent wave of union drives, NYCDS is now the only public defender's office in the city without a staff union. "A huge reason why we haven't unionized is there's a feeling among a lot of attorneys that we have it really good" compared with other public defenders, one attorney noted. Those who were previously opposed to unionizing are now asking where they can sign up. "Folks like Victoria were saying if we didn't do it proactively, it wouldn't happen until it was too late," they continued. "And they were right."
For her part, Ruiz wants to get back to work, someplace "where I'm not baggage," she said. "I'm obsessed with this job." Looking back on that night at the vigil, she says, "I regret that moment, I regret the hurt, I regret the fallout. I believe I was acting in my personal capacity and did nothing to hurt anyone. Rather, I took down a piece of paper that I believe stood for nobody and only hurt everybody."