Shows
Updated Help and FAQ Page *Updated 19th November 2023*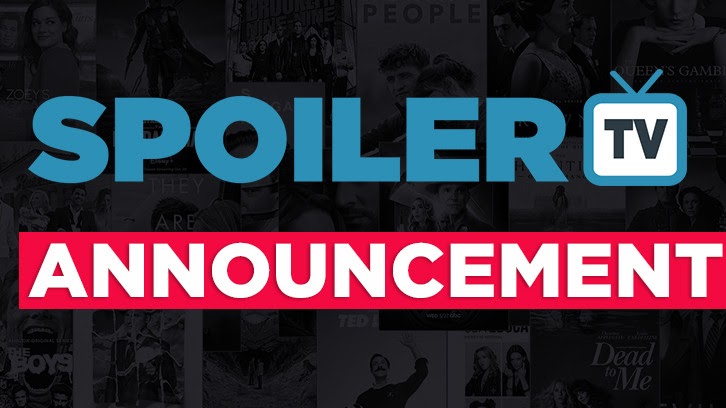 Update: 19th November 2023 Removed information that is no longer relevant.
Update: 13th March 2023 We like to update this every 6 months or so.
Update: 20th September 2022 With the new season just starting, thought it was time to "bump" this back up for any new people.
Update: 20th July 2022 Time for another refresh for anyone new here as well as some little changes here and there.
Update: 2nd September 2020 We thought it was a good time to update and refresh the Help Page.
If you have any questions/issues please feel free to post in the comments below, or if you would like any additions made to this page please let us know.
---
Help Introduction
New people are visiting SpoilerTV all the time and to avoid people emailing the staff asking questions about how to use the site, how to stay updated etc etc. we have put together this section which explains everything about the site.
If you want to know how to get the most out of SpoilerTV, read this guide…
---
Working Your Way Around The Site
Navigation of the Home Page – All Content
The site's homepage, spoilertv.com provides a constant stream of TV news, information, spoilers, teasers, reviews &articles from across the globe. The most current item is at the top of the page.
Clicking on a post title will take you to the content of that post as well as giving you the ability to view any comments that have been left or to add your own thoughts.
You can also click on the article Thumbnail as well.
---
Finding Show Specific Content
Instead of searching through tons of all the content to find information on specific shows, you can search for that individual show in a few ways.
1. Find the show you want on the main menu bar at the top of the homepage. Shows are sorted by US Network, for example 'Grey's Anatomy' can be found under 'ABC':
2. You can also find the show by selecting it from the Show Selector at the top of the sidebar. You can either scroll down to the show you want, or start typing the name to filter the results.
3. Clicking one of the 'Labels' that can be found attached to every post on the site:
---
Submitting News/Articles/Scoop
SpoilerTV relies on you, as TV fans to help us bring as much TV content as possible onto the website. To do that you can 'Submit a Scoop' by clicking on the Start or Features Menu and select'Submit Scoop' in the menu bar.
or via the Navigation Tab.
Clicking 'Submit a Scoop' will bring you to a Pop-Up Box where you simply enter name, email address, the website url of where you found the information (for us to validate) and then a description of what you have found. Click Submit and it will arrive with the SpoilerTV staff:
---
How to Stay Updated
SpoilerTV has many ways to keep on top of the latest news and content through a wide variety of systems and social media websites:
1. Twitter
Nowadays thousands of people are following SpoilerTV on twitter, where we have automatically set up live updates so as soon as content is put on the site, Twitter knows about it; and therefore so do you. We have over 50 specific show twitter feeds for you as well. Find all of our Twitter Feeds HERE
2. RSS Feeds
SpoilerTV also provides you with a large number of RSS Feeds that you can use in your favourite feedreaders or use in any RSS widgets. To view the RSS Feeds available simply head HERE and scroll down to select which feeds you want to subscribe too.
We highly recommend http://feedly.com/ if you want to use a great and free RSS Reader.
3. Facebook
SpoilerTV also have a Facebook page where you can get all the latest content straight to your wall, all you need to do is 'Like' the group by following the link HERE.
We also have show specific Facebook Pages for some of the most popular shows. You can see a Full List Here.
4. Tumblr
We also have a Tumblr Page here.
5. Instagram
We also have an Instagram Page that we post fun items and breaking news to. You can access it here
6. Mastodon
We're also on Mastodon for those that prefer it over Twitter. You can follow us here https://spoilertv.social/@spoilertv
Daily Digest
Not everyone likes Twitter or RSS Feeds and prefers a more relaxed and less immediate form of staying up to date. We also provide a simple Daily Digest Email that will email you daily and list all the new content that has been posted since your previous Daily Digest arrived. This is a great way to ensure you don't miss anything or if you are on the road. Simply use the form below to signup.
Instant Email Notifications
We also have an instant email notification system where you can subscribe to just the shows/labels and authors that you are interested in.
You can read how to do this here in our detailed explanation.
Google Chrome Extension
Recently we introduced our very own extension for any Chrome users. This will alert you in your browser whenever there is new content on show or shows that you specify. We already have over 3,000 users using this.
To download our Google Chrome Extension page, head HERE
If you've not used the Chrome Browser yet I cannot stress enough how much you should use it. It's the fastest and most secure browser currently available.
---
The SpoilerTV Community & Commenting
One of the things we pride ourselves on is the friendly community of people from around the world that visit our site on a daily basis. There are several tools/sites that we use to help build this community further.
1. Commenting
Each post that appears on SpoilerTV provides you with the ability to comment on it. We love reading your comments/questions and try to answer any questions you have. It's also a great way to find new friends who also share the same interests in your shows.
The commenting system is pretty easy to use. Simply type in your comment and press the Post Button. If you are already logged in then your comment will be posted immediatly, if you're not logged in your will be prompted to. You can log on using your Facebook, Twitter, OpenID, Disqus and/or Yahoo accounts or you can simply post as a guest with an Name/Email.
Edit Profile, Notifications and Avatar
You can edit your profile at any time and change your profile photo and notifications settings. Simply click the arrow icon next to your name and select Edit Settings.
You will then be taken to your profile screen where you can setup your profile.
2. Tweet Buttons
You can tweet articles that you like by clicking the Tweet Button that is available on the left of the screen:
Then click Tweet with the text you want written on your Twitter Feed:
By doing this you help us to grow and promote the site, so do it as much as you can.
3. Facebook
If you like an article, please use the Facebook button that appears under each article to Share it with your friends.
4. Popular/Trending Posts
One the right hand sidebar there is a widget that shows the Top 5 most popular current articles in the last 24 hrs and is constantly updated.
You can also see the current most popular article within the last few minutes in the "Trending Now" section that appears at the top of the article / article list. This is updated every few minutes. Below that you can see the other Trending Articles and below that shows that are Trending.
---
The SpoilerTV Team
Interested in who puts all the website together? Well, we now have a page where everyone who works and adds content in any shape or form to SpoilerTV is featured and you can check out the team HERE You can also follow the team on Facebook & Twitter from there.
---
SpoilerTV on your Mobile
We realise that a lot of people now use their mobile more and more to access content on the Internet and to stay up to date. I use my mobile (One Plus 5T) more and more these days.
We've designed SpoilerTV to be as Mobile Friendly as possible with all the latest smartphones. All features such as Videos, Polls, Comments should all work.
Simply goto our Mobile Site here.
NOTE: If the new mobile site is not to your liking you can revert back to the "Classic" version at anytime via the Pull out menu and selecting Classic Version or via the link at the bottom of each article.
---
Android App
For our Android users we also have an Android App that you can use rather than using the mobile version.
Here are some of the features of the app.
– Faster loading than the mobile app
– Ability to easily search for articles.
– Can star articles for later viewing
– Supports 3 different themes currently
– Supports List or Grid Mode
– Notifications of new articles
– You can easily view all articles from the last 24 hrs
– Quick access to some popular shows
– Ability to Hide Read Articles
– Ability to Mark All Read
– Sort by Articles by Date, Title, and read/unread
– View Movie Articles
– View Recent Reviews
– Quick links to key articles like Cancellation Table, Pilot Watch, Show Status, Premiere Calendar
– View Featured Articles
– View Trending Articles
– View BUZZ Articles
– View Fan Showcase
– View Recent Comments
– Ability to Submit Scoop from your Mobile
– Easily Share Articles on Social Media
– In-built Bug Reporting and Suggestion Form
– A What's New Page
– Contact Page
You can read more about it here.
---
Episode and Ratings Database
So what is SpoilerTV Plus Dashboard?
Basically it's a complete front end for all SpoilerTV users to customise their SpoilerTV experience. This does NOT replace the existing SpoilerTV.com site, this is like an added extra. Some of the key features are:
– Customisable Show Favourites to display just the information you want.
– Comprehensive Episode Database from over 200 shows
– Nielsen Ratings for all the Major US TV Shows
– Ratings charts and comparisons.
– The Episode Database will have future episodes titles for a large number of shows before any other site.
– Calendar Features to see when your shows are on
– Quick access to Promotional Photos, Promos, Sneak Peeks and Press Releases.
– Popular Shows and Network Charts
– Highly Configurable with more configuration options coming.
– Notifications
– Ability to Rate Shows
– Current Status of each show along with Artwork and Show Descriptions
To access the site you go here
Please take some time to read the online help file here
And you can see the recent changes in our Release Notes here
http://stvplus.com/pages/release
If you have any suggestions/feedback please submit them via the Feedback link in the Menu or by emailing me directly.
All the above links can be easily found on the STVPlus dashboard.
This is all brought to you free of charge thanks to the awesome developers, helpers and the SpoilerTV team who help populate this data for you.
So jump on in to http://www.stvplus.com and let us know what you think in the comments.
---
Quick Access Links
At the top of the site we have a menu-bar that provides quick access to some of the popular features here at SpoilerTV.
What's Hot – Shows what is currently popular at SpoilerTV. It shows the most popular Shows, Videos, Articles, Reviews and most commented posts.
What's on Tonight – Shows Today's Primetime TV Listings for 20 Broadcast and Cable Channels.
Photo Gallery – Provides a quick link to our Image Gallery that is the home to over 150,000 images from current and past TV Shows and Movies.
Episode Database – Access to our comprehensive Episode and Ratings Database
Pilot Watch – Want to see what shows are coming next year. Well this is the link for you.
Cancellation Table – Want to see which shows are likely to be Renewed/Cancelled. Then click this link.
Movies – Interested in see just our Movie related posts? Then click this.
TV Scorecard – A single, at a glance, spreadsheet that shows the current status of all shows we cover.
Ratings News – Interested in Ratings News about your TV shows? This link will show you all our Ratings Related posts and articles.
Submit Scoop – Allows you to send Scoop to the team
---
Release Notes
Starting in 2014 we began to update our Release Notes page whenever we make a change to the site. The page can be accessed from the Help Menu.
---
Feedback / Report A Bug
We're always looking for you to help us make the site better, and you can do that by clicking on the "Send Feedback" link at the bottom of every page of via the top menu and letting us know what you would like to see on SpoilerTV in the future.
This will then take you to a popup screen that will allow you to provide feedback, suggestions and bug reports, as well as being able to vote on existing suggestions.
---
Troubleshooting
If you ever have any problems with SpoilerTV please use either the Feedback Form or email me directly via the Contact Us link in the Help Menu. or via our support email address support@spoilertv.com
---