News
Why Was Sam Altman Fired As CEO of OpenAI?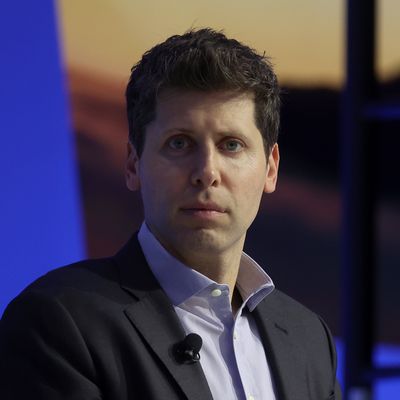 Sam Altman looks on during the APEC CEO Summit at Moscone West on Thursday in San Francisco.
Photo: Justin Sullivan/Getty Images
Sam Altman, the co-founder and CEO of OpenAI who many considered to be the leader of the burgeoning artificial-intelligence revolution, was fired on Friday. The dismissal followed what the company said was a "deliberative review process by the board, which concluded that he was not consistently candid in his communications with the board, hindering its ability to exercise its responsibilities." As a result, "the board no longer has confidence in his ability to continue leading OpenAI."
The news shocked the tech world given what Altman, 38, had accomplished in a few short years. While tech giants such as Google have been working for years to developing artificial intelligence, OpenAI catapulted in front of them when it unveiled ChatGPT last November. The chatbot demonstrated abilities never before released to the general public — like being capable of writing a lot more like a human. Immediately gaining 100 million users, ChatGPT helped OpenAI raise billions of dollars, sent Google reeling, and put AI at the center of the tech industry. It also made Altman an overnight celebrity and he was happy to play the role, presenting himself as a visionary if slightly weary face of what AI might mean for humanity.
In tweet soon after he was fired, Altman said he "loved" his time at the company, which he called "transformative." He also praised his former colleagues:
OpenAI's chief technology officer, Mira Murati, will be interim CEO while the board searches for a successor. Co-founder Greg Brockman will step down as chairman of the board, but will remain in his role as president of the company, reporting to Murati.
If there are any other factors in Altman's dismissal — which reportedly came as a surprise to OpenAI employees — those reasons have yet to be reported. In the meantime, the speculation has begun:
And of course somebody asked OpenAI's chatbot, ChatGPT, what it thought had happened — and it guessed there was likely "more to the story":
In September, New York's Elizabeth Weil profiled Altman and highlighted the numerous anxieties about him and his role in the AI revolution:
By Altman's own assessment — discernible in his many blog posts, podcasts, and video events — we should feel good but not great about him as our AI leader. As he understands himself, he's a plenty-smart-but-not-genius "technology brother" with an Icarus streak and a few outlier traits. First, he possesses, he has said, "an absolutely delusional level of self-confidence." Second, he commands a prophetic grasp of "the arc of technology and societal change on a long time horizon." Third, as a Jew, he is both optimistic and expecting the worst. Fourth, he's superb at assessing risk because his brain doesn't get caught up in what other people think.

On the downside: He's neither emotionally nor demographically suited for the role into which he's been thrust. "There could be someone who enjoyed it more," he admitted on the Lex Fridman Podcast in March. "There could be someone who's much more charismatic." He's aware that he's "pretty disconnected from the reality of life for most people." He is also, on occasion, tone-deaf. For instance, like many in the tech bubble, Altman uses the phrase "median human," as in, "For me, AGI" — artificial general intelligence — "is the equivalent of a median human that you could hire as a co-worker."
In addition, she wrote:
[I]t can be hard to parse who Altman is, really; how much we should trust him; and the extent to which he's integrating others' concerns, even when he's on a stage with the intention of quelling them. Altman said he would try to slow the revolution down as much as he could. Still, he told the assembled, he believed that it would be okay. Or likely be okay. We — a tiny word with royal overtones that was doing a lot of work in his rhetoric — should just "decide what we want, decide we're going to enforce it, and accept the fact that the future is going to be very different and probably wonderfully better."
This post has been updated to include additional reporting and commentary.