Shopping
Cheap Eats & Top 10 Food Deals of the Week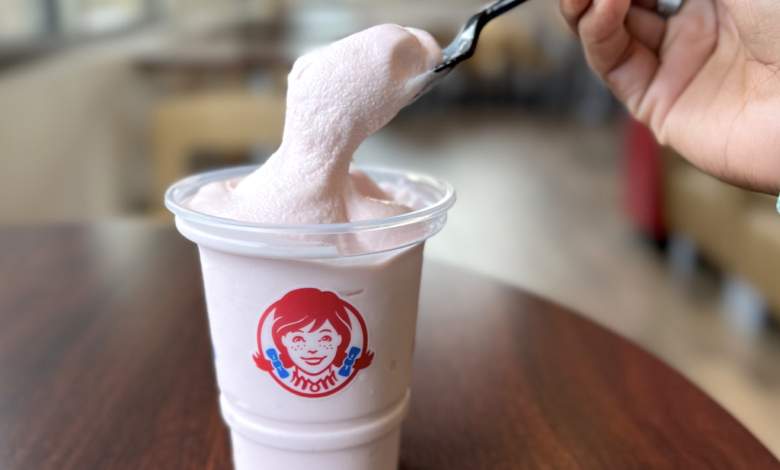 We're sharing the best food deals and top cheap eats of the week!

Looking for cheap eats from your favorite restaurants?
With the holiday season comes more activities, sports, and events which means less time for cooking family dinners! Don't fret – you can still get your family fed on your busy schedule without breaking your budget.
As we head into Thanksgiving Break, we have compiled a list of our favorite restaurant food deals from the week for all you busy or tired peeps out there who are focused on meal planning and preparation for the big day!
Don't want to leave the house? Check out these restaurants that offer free delivery right to your door!
Here are a few of our favorite cheap eats and food deals from this past week!
Krispy Kreme wants you to take advantage of their best and most current offers, so you'll want to be sure you download the free Krispy Kreme App for iTunes or Google Play.
Until November 23rd, you can score an Original Glazed Dozen for only $2 with the purchase of any dozen!
Be sure to sign up for Krispy Kreme Rewards to get offers and more in the app…
Right now when you join Krispy Kreme Rewards, not only will you start earning points on purchases that you can use to get free donuts and more,  you'll get a FREE donut of your choice!
May we suggest trying one of these seasonal flavors:
Cinnamon Latte Lover – This doughnut is dipped in cinnamon icing and then topped with a dollop of cinnamon latte buttercream and finished with an autumnal leaf candy piece
Spiced Apple Filled – A doughnut shell is stuffed with apple cider-flavored filling. Then the whole doughnut is coated in cinnamon & sugar
Caramel Pecan Brownie – An Original Glazed Doughnut dipped in decadent brownie batter flavored icing, and topped with candied pecans and finished with a drizzle of caramel icing
Classic Blackberry Crisp Filled – A doughnut shell stuffed with blackberry filling then dipped in cinnamon icing and topped with crunchy granola
Pumpkin Spice Cake – Also part of the last batch of fall doughnuts, this fall classic consists of a glazed, old-fashioned pumpkin spice cake doughnut
Chocolate Iced with Autumn Sprinkles – A festive twist on a timeless classic, this one features Krispy Kreme's Original Glazed Doughnut dipped in chocolate icing and topped with an autumn-themed brown, orange, and yellow sprinkle blend
---
If you have a Wawa near you, and you're a Wawa Rewards member (free to join) get excited because Free Coffee Tuesdays are BACK at all Wawa locations! Each Tuesday through December 26th, you'll be able to stop by for your free coffee!
All you need to do is scan your app or rewards keychain – easy peasy!
Note that this offer has a limit of 1 per customer, per transaction, and self-serve iced coffee is excluded.
---
Now through December 31st, Dunkin' Rewards members can take advantage of Free Donut Wednesdays! Just buy any drink and you can claim a FREE classic donut every Wednesday for the rest of the year (limit 1 per member every Wednesday).
Plus, Rewards Members check your account for these offers…
$1 Medium Hot Coffee
Free Medium Cold Brew with purchase.
Free Medium Hot or Iced Chai Latte with purchase.
2X points on Wake-Up Wraps
Boosted Dunkin' Rewards Members can unlock 3X points by ordering ahead on Wednesdays
Order ahead through the mobile app on Mondays to earn 100 bonus points
Celebrate National Espresso Day from November 24 to November 26 with 4X points on all espresso beverages
---

Wendy's always has great deals and specials! To take advantage of their best and most current offers, you'll want to be sure you download the free Wendy's App for iTunes or Google Play.
Head over to Wendy's where they want you to have a Free Small Peppermint Frosty on The House. Who doesn't love a Frosty?! And now you can be one of the first to try a FREE Small Peppermint Frosty through their in-app offer. Even better there is no purchase necessary to score one!
And don't forget, until December 29th, every FRYday, you can score a FREE small fry with a small (or larger) Frosty purchase!
We also spotted these Rewards offers and more in the app…
Free Small Frosty or Frosty Cream Cold Brew NO Purchase Required (11/19)
Free Small Chili w/ Purchase (exp 11/19)
BOGO FREE Spicy Chicken Sandwich or 10-Piece Nuggets (exp 11/26)
$4 off Any in-app Delivery Order of $20 or more (exp 11/27)
$2 Off Any Premium Combo (exp 12/31)
---

Treat yourself to some cool treats and yummy eats at Dairy Queen! To take advantage of their best and most current offers, you'll want to be sure you download the free Dairy Queen App for iTunes or Google Play.
Cheeseburger lovers get excited! Head over to DQ to get 2 for $5 Singles or 2 for $7 Doubles!
OR if chicken strips and Blizzards are your favorites through November 19th only you can get a FREE mini Blizzard when you order a 6-piece chicken strip basket (regularly $5.59)!
If you'd love to score more Blizzard deals be sure to join the Blizzard Fan Club and get access to Blizzard of the Month announcements, DQ promotions, and news delivered right to your inbox!
We also spotted these Rewards offers and more in the app…
Free kid's meal with Signature Stackburger Combo (11/19)
$3 off a 6-piece Chicken Strip Basket (exp 11/19)
2 for $3 small Shakes or Malts (11/19)
$5 Off a 10″ Oreo Blizzard Cake w/ and Online or App order of $1 or more
---
Through today, November 17th only, select Subway locations are still offering Buy 1, Get 1 Free Footlongs when you use the promo code FREEFL online or in the Subway app! With Footlong options as low as $6.49, that means each Footlong would be only $3.24!
Plus, there are even more Subway promo codes available right now to save on drinks, chips, meals, and more! Keep reading to find out all the current offers, plus info on Subway's revamped rewards program!
If that offer doesn't work for you, you can try these instead…
FREEFL = Buy 1 Footlong, Get 1 Free
599FL = Get a Footlong for $5.99
FOOTLONG699 = Get a Footlong for $6.99
FLMEAL =  Get a Footlong, Fountain Drink, Chips OR 2 cookies for $8.99
1299FL = Get TWO Footlongs for $12.99
1799FL = Get 3 Footlongs for $17.99
MEAL799 = Get a Footlong, Fountain Drink, Chips OR 2 Cookies for $7.99
BOGODRINK = Buy a Footlong & a Fountain Drink, Get 1 Footlong Free
MEAL599 = Get a 6″ Sandwich, Fountain Drink, Chips, OR 2 Cookies for $5.99
FREEMEAL = Get a 6″ Sandwich, Fountain Drink, Chips, OR 2 Cookies for $6.49
349SUB = Get a 6″ Sandwich for $3.49
SUB399 = Get a 6″ Sandwich for $3.99
CHIPS = Get a Free Bag of Chips when you buy a Footlong
---
For a limited time, Grubhub is offering all Amazon Prime Members a FREE 1-Year Grubhub+ membership (a $119.88 value)!
Already have a Grubhub+ account? Users are also eligible for this promo. You simply have to sign up via Amazon. Just sign up here and connect your Grubhub+ account. Your free one-year Grubhub+ membership will begin at the start of your next billing cycle.
Even better, for a limited time Amazon Prime Members get 20% off their Prime Grubhub order every Thursday with promo code GAME20 at checkout, when you order through your Amazon Prime account!
Here's how to score the FREE Grubhub membership Prime deal!
---
If you place an order at KFC.com or through the KFC app, you can score FREE delivery (except for gratuity) every single Thursday through January 4, 2024! 🙌
This offer is only available at participating locations and delivery availability and hours may vary.
Plus be sure to lookout for KFC's 2023 limited-edition "Secret Recipe of Joy" holiday buckets. On November 12th, Kentucky Fried Chicken started serving many of your favorite bucket meals in these festive buckets.
In addition to the special holiday buckets, KFC released two new menu items. Enjoy the NEW Mac & Cheese Wrap and snag 2 for just $5! And for you chocolate lovers, you'll want to try the family-size Colonel's Homestyle Brownie. This fudgy and decadent treat can be added to any bucket meal or $20 Fill Up Box for just $5.
---
Get ready for dinner with Pizza Hut, where you can score 2 or more items from the Deal Lover's Menu for just $7 each! All you have to do is click here and snag the deal! This is a great option to have for game night, family parties or even to take with you to your kiddo's school celebrations. Note that prices may vary by location.
Check out some of the Pizza Hut offers you may find…
New Pizza Melts – $6.99
2 Medium 3 Topping Pizzas – $9.99 each
Large 3-Topping Tastemaker Pizza – $10.99
Dinner Box as low as $10.99
Large 3-Topping Original Pan Pizza – $11.99
The Big New Yorker $13.99
Large 5-Topping Pizza – $13.99
Large 1-Topping Stuffed Crust Pizza – $13.99
Family Pasta Pair as low as $14.99
Large 3-Topping Pizza and 8 Breaded Boneless Wings – $18.99
The Big New Yorker + 8 Boneless Wings Bundle – $19.99
Large 1-Topping Stuffed Crust Pizza and 8 Breaded Boneless Wings  – $23.99
2 Medium 3-Topping Pizzas, Breadsticks and an Ultimate Chocolate Chip Cookie – $24.99
Big Dinner Box as low as $24.99
Triple Treat Box – 3 Courses, 1 Festive Box as low as $25.99
Large 1-Topping Pizza, Medium 1-Topping Pizza, Double Order of Cheese Sticks, and 8 Breaded Boneless Wings – $33.99
2 Large 1-Topping Pizzas, a Double Order of Cheese Sticks, and 8 Breaded Boneless Wings – $40.99
Free 1-Topping Personal Pan Pizza w/ Purchase of Medium or Large Menu Priced Pizza
---
Because hot, delicious pizza makes everything better, through February 11th, hurry over to Domino's where they are offering Rewards members the chance to earn a FREE Medium 2-Topping Emergency Pizza when you place a qualifying carryout or delivery order, online or in the app.
*Be sure to tap on the emergency pizza to "break the glass". 
Within 24 hours of ordering, check your Rewards account under the My Deals and Rewards tab to claim your offer. Note that you must claim your offer within 7 days and use it within 30 or it will expire. If your offer expires before you use it, you can still earn another.
However, there is a limit of one redemption per rewards account, and you cannot redeem the FREE Emergency Pizza offer on 12/31/23.
---
For a limited time, you can score a Wing Bundle, which includes SIX boneless wings and a regular-sized french fry, for as low as $8.99!
Considering the 6 wings alone typically start at $9.49, that's a pretty strong deal since you are getting fries for even less! Yum! Note that pricing may vary based on your location. Valid for takeout or delivery.
AND every Tuesday, Buffalo Wild Wings offers Buy 1, Get 1 50% Off Traditional Wings and every Thursday, you can get Buy 1, Get 1 Free Boneless Wings! This offer is valid both in-store and online for dine-in, delivery, or take-out at participating US locations.
No promo code is needed to snag this deal, as the discount will automatically apply when you add an order of wings to your cart.
Don't miss these other Buffalo Wild Wings Specials:
---
Olive Garden – Never-Ending Pasta is Back!
For a limited time, Olive Garden has announced their Never-Ending Pasta Bowls are back and no coupon is needed to enjoy the unlimited pasta!
This unlimited serving of select pasta will cost you $13.99 per person, plus an additional $4.99 to include toppings such as meatballs, Italian sausage, or crispy chicken. This is the same pricing we saw for this popular offer back in 2022 – sweet! Did anyone else just say "Dinner at Olive Garden today"?
Note that pricing may vary by region and this offer is only available for those dining in.
Want to take something home instead?
Plus, for a limited time, Olive Garden is also offering Take-Home Entrées for only $6 each when you purchase any entrée! Keep in mind that there is a limit of 5 per entrée when dining in-restaurant, and a limit of 1 per entrée with To Go online orders.
If you'd prefer a lunch-sized meal, be sure to check out their Lunch Favorites Menu available before 3 p.m. Monday through Friday. Starting at just $8.99, this menu includes Soup, Salad, and Breadsticks, plus favorites like Eggplant Parmigiana, Fettuccine Alfredo, Cheese Ravioli, and more.
These meals are a yummy alternative to those bagged lunches, so consider treating yourself to a lunch upgrade soon!
---
Through December 31, 2023, McDonald's is making every Friday a fry day by giving away a FREE order of medium fries with your in-app purchase of just $1 or more!
You can only claim this offer each Friday, and you'll need to place your order via the McDonald's app to do so. If you're just downloading the app for the first time, you'll also score a reward for a FREE Large order of Fries, valid in-store or with order pick-up!
Plus, be sure to check the deals section of the app as they frequently add new offers to save on many of the most popular menu items!
Check out these McDonald's coupons you may be able to snag NOW with the App…
$1.50 Breakfast Sandwich (exp 12/3)
20% Off any purchase of $10 or more (exp 12/3)
$2 Off a Medium or Large McCafe (exp 12/3)
$1 any size Soft Drink, Sweet Tea, or Unsweet Tea (exp 12/3)
99¢ any size Premium or Iced Coffee (exp 12/3)
$2 Breakfast Sandwich (exp 12/3)
$0 Delivery Fee with $15 minimum purchase (exp 12/10)
---
Every Friday through December 31st, Burger King is offering Free Any Size Fries with any purchase! This coupon will appear in your account weekly on Fridays and applies to any order of $0.01+ making for a nice treat to kick off the weekend!
Through November 19th, be sure to test your quarterback skills to win Royal Perks Crowns, free Coke drinks and more! Just head to the app and you should see the link to play the Coca Cola Sip, Throw & Score Game. You could win a free 4-piece Chicken Fry with a $1 or more purchase or more! Will you make it into the Hall of Fame?
Plus check out these additional Royal Perks offers we spotted in app…
$22 2 Whoppers, 2 Original Chicken Sandwiches, 2 8-piece Nuggets
$13.99 Small Whopper Meal for 2
$7.99 Two Whopper Jr. Sandwiches and Two Small Fries
$3.99 Double Cheeseburger and Small Fries
$8.99 Bacon King and Small Fries
Buy one, get one free Original Chicken Sandwich
Just head to the "offers" section within the Burger King App and select the offer you'd like to apply or show the barcode when making a purchase in stores! Only one coupon can be applied per purchase, so be sure to choose the one that works best for you.
Source link