Religion
Elie Wiesel-inspired fellowship models peace building amid Israel-Hamas War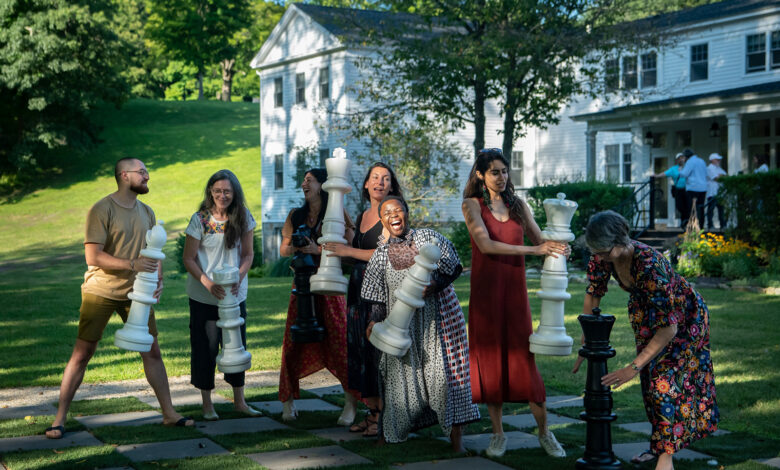 (RNS) — The United States was in the throes of the pandemic. Shoppers were clashing over mask mandates, cities were roiling with Black Lives Matter protests and talk show hosts debated the validity of the 2020 election. Amid society's rifts, Juliana Taimoorazy, an international advocate, Iraqi Christian and self-described conservative, embraced conflict a step further: She joined a cohort of emerging leaders with opposing worldviews.   
"Meeting people from different walks of life, with different political and religious views, that was new to me. Mainly I was just surrounded with like-minded people in my network," said Taimoorazy, who founded the Iraqi Christian Relief Council in 2007.
In any other context, such a gathering could easily combust or unravel. But under the attentive guidance of Rabbi Ariel Burger, a lifelong student of Holocaust survivor and Nobel laureate Elie Wiesel and author of "Witness: Lessons from Elie Wiesel's Classroom," the cohort members not only sharpened their personal beliefs, but also cultivated true friendships. Disagreement, Taimoorazy learned, was an opportunity.
"Learning to love one another despite our vast differences was something stark that I came out with," Taimoorazy told RNS.
Grounded in teachings from Jewish mysticism and from Wiesel, The Witness Institute's fellowship program, which launched a beta version in 2020, is designed for emerging leaders seeking to develop understanding across difference. Burger teamed up with Wiesel's son, Elisha Wiesel, to establish the institute, which was envisioned as a legacy project that would translate Elie Wiesel's teachings for a new generation.
Now in its third round of cohorts, The Witness Institute has had 28 fellows go through its 15-month flagship program — which includes monthly online convenings and semiannual retreats. The course employs art, storytelling, humor and religious texts, equipping leaders to express their core beliefs while being open to those with conflicting views. 
Amid disparate responses to the Israel-Hamas war, it's a strategy that current fellows are employing in real time.
"It's so necessary right now to expand our trove of wisdom and tools to help us in moments of crisis in particular, and in conflict transformation, always," Burger told RNS.
In the early 2000s, before heading to Boston University to get his Ph.D. in religion and conflict transformation, Burger's classroom was the city of Jerusalem, where he participated in Israeli-Palestinian dialogue groups.
He witnessed two models: one that was secular, modern, Western and built on concepts like natural law and human rights, and the other based on religious texts, traditions and practices. The second approach was modeled by Palestinian Muslim Sheik Ibrahim Abu El-Hawa and Israeli Orthodox Rabbi Menachem Froman.
"They had a very playful and very close relationship. They would also sit on each other's laps and laugh together, and sing together and lead chants together with all of us. And that model really stayed with me," said Burger.
After four years of on-the-ground peacemaking, Burger concluded that the secular approach to dialogue is often less effective than strategies that build on religious texts, traditions and lineages. These approaches, at their best, can build spaces of vulnerability and community, he said — which is why Burger has passed down this method via The Witness Fellowship.  
It's a strategy that has proven effective, according to Laura Holford, a current fellow who considers herself a "contemplative Christian" and lives in Sacramento where she works as a nurse. She has appreciated how engaging with religious traditions, art and contemplative practices has cemented trust and tolerance among the fellows.
"I've personally enjoyed the sacred stories from the Jewish mystical tradition I've never been exposed to before that unlock the truth about how to walk through the world," Holford told RNS. "Narrative and story can teach us and move us to deeper things than we can process on the rational level, and it can come in the side door to move us, to agitate us to change."
One of the stories Burger uses to frame the fellowship is the Genesis creation account. According to the text, God creates Eve and calls her an "ezer," a Hebrew word Burger said means a "helper and connector who will be against him." Hasidic teachings suggest that, based on this concept, the role of a good friend, partner or spouse is to challenge their counterpart from a place of compassion and shared purpose, refining their words and ideas.
"And so, in a certain way … every person on the other side of an issue or conflict can be seen as a teacher or a friend," Burger said.
Throughout the fellowship, stories like this function as a blueprint for productively engaging in dialogue. Before a discussion, Burger teaches fellows to agree on what success looks like and to establish what to do if someone is triggered in advance. During the exchange, Burger suggests addressing an interlocutor's strongest argument, leaving space so reaction becomes response, and even swapping ideological sides during the course of the dialogue. Afterward, he encourages discussion partners to reflect appreciation for one another, name points of unresolved conflict, quote their interlocutor first and positively when summarizing the discussion, and to physically shake out residual, embodied tension.
"I loved how Ariel encouraged us to presume the best of the person on the other side of the conversation," said Amy Delgado, a 2022 cohort fellow living in Dallas, Texas, in the process of becoming a third-order Franciscan. "Ariel said to remind people it's okay to make a mistake in the course of the conversation. Part of the process is to make mistakes and learn from them."
---
---
Applicants often discover the fellowship via Burger's 2021 interview on Krista Tippett's "On Being" podcast, or by being nominated by former fellows and others connected with the program. The range of worldviews, religions, backgrounds and fields represented in each cohort — from theater and comedy to law and health care — is no accident. 
"We deliberately recruit people who are progressive and conservative and neither and in between, in terms of political and ideological positioning," said Burger. "We're looking for people with a kind of openness to be in dialogue and to listen and to reflect and question themselves. And all of that is really how Professor Wiesel modeled his classroom teaching."
As fellows from a plurality of perspectives learn to constructively disagree, each cohort is creating a small circle of influential leaders who are versed in Wiesel's teachings, knowledgable about ancient wisdom traditions and equipped to clarify conflicting ideas through dialogue. Cohort after cohort, the Institute aims to expand the circles of trust so their ripple effects impact society.
That dynamic is already manifesting, at a small scale, in an all-cohorts group chat.
"We have an active Signal chat for all the fellows, and what's happening with Gaza and Israel right now, it's like a live session to apply these skills," Holford told RNS. "People fall all over the spectrum in terms of how they engage with this conflict. So it's happening live right now, this chance to listen to each other."
In light of the conflict, Burger plans to hold a virtual meeting for current and former fellows to practice the tools they've learned for processing difficult emotions. He'll invite them to follow Elie Wiesel's call to "think higher, feel deeper," by leaning into the sensitivity they are feeling. He will challenge them to think with precision about sources of information they are trusting, how they are interpreting events and how they are considering proposed policy solutions. Burger admitted that this work is grueling and would be impossible without the community they've formed. 
"We are all facing a choice right now, with peers and colleagues and friends: will we lean in or will we lean out?" Burger wrote to RNS in an email. "Will we choose to engage thoughtfully with the people around us who see things differently, people we know to be good and sincere? Or will we immediately write off anyone who doesn't adopt our particular dogma?"
Taimoorazy, who, after her fellowship concluded in May 2022, left her network in Chicago to enroll in a Ph.D. program in Humanistic Studies at the University of Texas at Dallas, told RNS she has also applied lessons learned from The Witness Institute while engaging current classmates about the Israel-Hamas war.  
"Something Ariel does, he always says, have a drink with you, a cup of water, tea. And for me, that's symbolic of breaking bread together," Taimoorazy told RNS. Last week, she went to a Muslim colleague's office to speak to him about Hamas. She asked to see what he was eating, and he broke off two pieces of bread, prayed over it, and fed it to her.
"We had a very difficult conversation over breaking bread, literally," said Taimoorazy. "I think that's what's missing in our society. I think people need to come together and eat together. Because we are human after all."
This story was supported by the Solutions Journalism Network, a nonprofit organization dedicated to rigorous and compelling reporting about responses to social problems.
---
---
Source link