News
Nikki Haley Is on the Brink of Croaking Ron DeSantis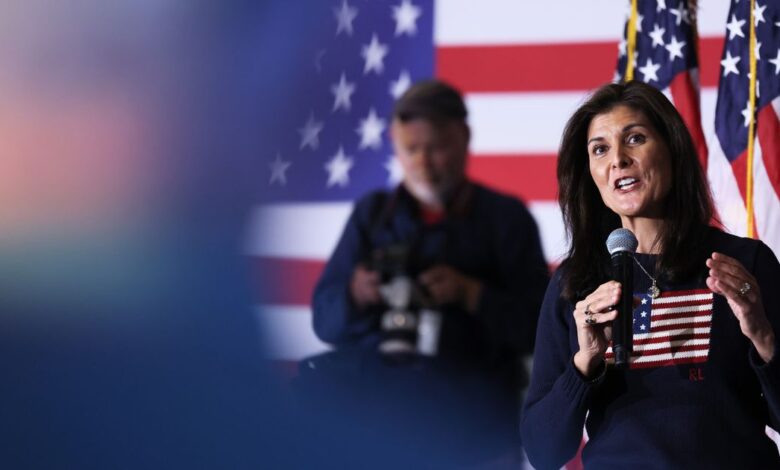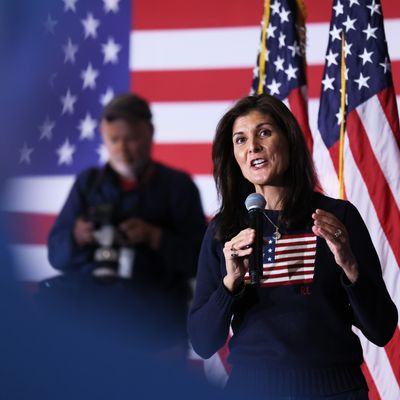 You'd rather be Nikki Haley than Ron DeSantis right now.
Photo: Michael M. Santiago/Getty Images
In the understandable focus on which Republican presidential candidate is running a distant second to Donald Trump in Iowa, it may have passed notice that Nikki Haley is beating the tar out of Ron DeSantis in the next two early states, New Hampshire and her native South Carolina. A new survey of the Granite State shows Haley second at 18 percent, while DeSantis is fourth (slightly behind Chris Christie) at 7 percent. That's no outlier: Haley is at 17 percent in the RealClearPolitics averages for New Hampshire while DeSantis is at slightly less than half that number (8.3 percent, tied with Christie for third place).
More predictably, in her home state, Haley leads DeSantis in the RCP averages: 18.8 percent to 10.5 percent. You have to assume that Tim Scott's withdrawal from the contest will benefit Trump and Haley, now the only South Carolinian in the race, much more than DeSantis.
It's impossible to avoid the conclusion that if Haley edges DeSantis for second place in Iowa, he's done. He's put all his marbles and his steadily declining bank balance into the first-in-the-nation caucus state, and he just can't overcome a loss there after being the sole serious rival to Trump for much of 2023. Will he lose there? It's unclear: Haley definitely has the momentum; she's roughly doubled her support there since September and was tied with DeSantis in the latest gold-standard Iowa poll from the Des Moines Register–NBC News–Mediacom. But since then, DeSantis picked up a coveted endorsement from Iowa governor Kim Reynolds, and he is close to completing his pledge to campaign in all 99 counties (a feat known as "the full Grassley").
Perhaps the most interesting question is whether Haley, with her solid lead over DeSantis in the subsequent early states, could overcome a strong third-place finish in Iowa. In 2016, Marco Rubio (who, as it happens, was Nikki Haley's candidate) got a brief surge from finishing a strong third in Iowa, before a really bad debate performance knocked him into fifth place in New Hampshire.
Then there is Nevada, which will vote between New Hampshire and South Carolina. Though it has gotten very little attention, Republican candidates were forced to choose between participation in a state-run primary (essentially a "beauty contest") or a party-run caucus (which will select delegates). DeSantis opted for the more meaningful caucus, where he will (if he's still around) get smoked by Trump, who has the whole thing wired. Haley chose the primary, where she will win (the only other candidates who went that way, Scott and Mike Pence, have dropped out) and get some nice headlines.
The bottom line is that you'd rather be Haley than DeSantis right now. She could knock him right out of the race in Iowa, but she has some potential staying power even if he edges her there. But the important thing to keep in mind is that neither of the challengers have shown any signs of being able to overtake Trump, and so long as that is the case, they are battling for a participation trophy.
Source link