News
Trump's Truth Social Is an Unmitigated Failure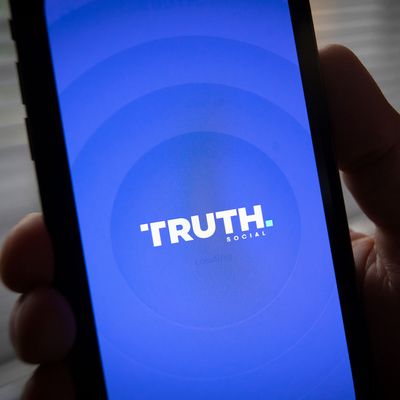 Photo: Jaap Arriens/NurPhoto via Getty Images
Since Donald Trump's social-media venture launched in February 2022, the name Truth Social and the words financial success have rarely been seen in the same sentence. Founded by the Trump Media & Technology Group, the site has struggled to bring in users from the beginning; even Trump's kids hardly log on to support dear old indicted Dad. After a brief spike in its share prices, recent efforts to go public via a blank-check firm called a SPAC burned out. Trump's business partners later had to return over $500 million of the funds they raised in the process, and one of the investors leading the SPAC effort was charged in June with insider trading.
A regulatory filing this week helps provide a sense of scale for this debacle. On Monday evening, Digital World Acquisition Corp. — the blank-check company trying to merge with Trump's social-media app — admitted it has lost $73 million in net sales since Truth Social launched last year. The filing shows 2023 was tough, with $23 million lost against $2.3 million in sales. Even last year, when publicity around the app was at its zenith, Truth Social lost $50 million on just $1.4 million in net sales.
The filing wasn't any brighter about the app's future. Trump's media company admitted that unless there is "material progress" toward taking the app public, it "may be difficult to raise additional funds through traditional financing sources." Furthermore, the company's accountant has expressed "substantial doubt as to its ability to continue as a going concern."
That could be a hard truth for some social-media founders to swallow. But thankfully for Trump, his rich history of failed businesses will have prepared him if his Twitter clone goes down for the count.
Source link