News
Trump Has a Significant Lead Over Biden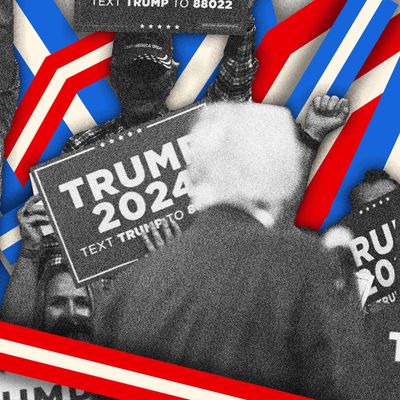 So far, the Trump-Biden race is coming up MAGA.
Photo-Illustration: Intelligencer; Photo: ANDREW CABALLERO-REYNOLDS/AFP via Getty Images
Based on two sets of polls from Bloomberg/Morning Consult and one each from the New York Times/Siena and from Emerson, it's pretty clear Donald Trump has a lead over Joe Biden in the majority of key 2024 battleground states. Separate polling also shows him moving into a small lead in the national popular vote (which he lost by 2.1 percent in 2016 and 4.5 percent in 2020). Instead of arguing over the reliability of this or that poll or pollster, we can now begin to pay some attention to more reliable polling averages.
According to the RealClearPolitics averages, Trump leads Biden (in one-on-one matchups) by 3.7 percent in Arizona; by 5.5 percent in Georgia; by 1.0 percent in Michigan; by 4.0 percent in Nevada; and by 2.5 percent in Pennsylvania. Biden leads Trump by 0.7 percent in Wisconsin.
Bloomberg/Morning Consult's latest battleground polls add in trial heats that include independent candidates Robert F. Kennedy Jr. and Cornel West. Even though Kennedy wins an average of 10 percent in these states, he barely affects the margins between the two major-party candidates, suggesting he is drawing support from them equally and/or from voters strongly alienated from both.
Meanwhile, polls of the national race show on average Trump now leading Biden by 1.1 percent (45.6 percent to 44.5 percent). Four-way polls with Kennedy and West listed as options give Trump an average lead of 2.7 percent (Trump: 39.2 percent; Biden: 36.5 percent; Kennedy: 15.3 percent; West: 3.8 percent).
It is incredibly important, particularly for Biden supporters freaking out over adverse polls, to remember how many things can change in the year before the general election, beyond the fact that neither man has even been formally nominated yet.
The independent and minor-party factors are important to remember as well. The current robust polling for RFK Jr. (and, in a few surveys, for Cornel West) should be taken with a big grain of salt. For one thing, they are still battling for ballot access. For another, non-major-party candidacies invariably lose altitude as actual voting grows near and voters choose not to "waste" their ballots. On the other hand, the four-way polling discussed above does not include certain candidacies from the Libertarian and Green parties, who are already guaranteed ballot access in many states. And there's the added possibility that the No Labels organization will sponsor a high-profile candidacy with difficult-to-anticipate impact on the outcome.
If those aren't enough variables for fretting partisans, remember that Donald Trump and supporters are very likely to contest any presidential defeat he fails to win outright. There could be a long, strange trip ahead of us before Inauguration Day in 2025. But that's no reason to stop paying attention to the data about where the electorate seems headed as it becomes available.
Source link