News
King Charles Gets More Prince Harry Drama for His Birthday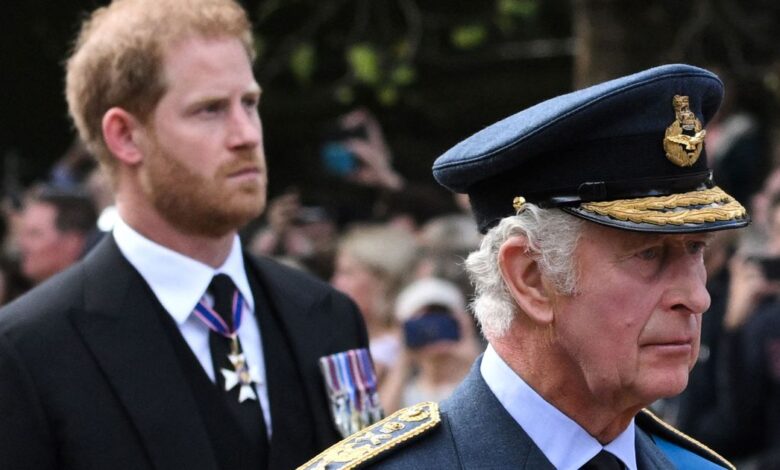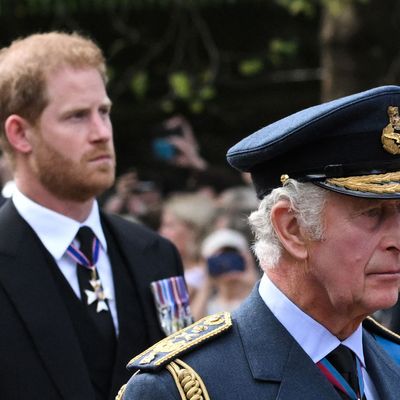 Photo: Loic Venance/AFP via Getty Images
It's been less than a year since Prince Harry released a tell-all memoir about Britain's royal family, so it's understandable he and his father King Charles aren't on great terms. It's safe to assume the pair won't be spotted together anytime soon, unless the event in question is one for the history books, like Charles's coronation.
Nevertheless, anytime the father and son celebrate a milestone or travel across the Atlantic there's a flurry of reunion speculation. And for some reason Harry, and possibly Charles, decided to add fuel to the fire ahead of the monarch's 75th birthday on November 14.
The public squabbling started last weekend, when the Sunday Times reported that a "mostly contented" king would celebrate his birthday "with his closest family and friends at Clarence House" — but not his youngest son:
Yet one key guest will be missing. Although it is understood Charles invited his second son to the family gathering, the Duke of Sussex is not making the trip from California. In September, Prince Harry also turned down the offer to spend some time with his father at Balmoral while he was visiting the UK for a charity event at the time of the anniversary of Queen Elizabeth's death.
It's not entirely clear how this "is understood," but Charles's "close aides" and a "source close to the King" are cited earlier in the piece. And later "a friend of Charles" suggests the monarch is still torn up about Harry's appalling behavior, but he's so kindhearted that he felt he must extend an invitation:
A friend of Charles described his mood on the matter: "When he gets to the end of another successful work day and thinks of his family, there will always be a twinge in his heart about a problem that he hasn't been able to solve yet, but he will be taking the long-term view. The current act is a challenging one, there are issues that aren't resolved and there won't be a rapprochement any time soon. There is the sense of a cooling-off period from the family that is under way after the aftershocks of the book and the interviews. But that doesn't change the King's love for his son. He'll never not invite his son to a family gathering, because that's not who he is."
Prince Harry could have said nothing at this point, as he's the subject of many wild rumors and he and his wife Meghan Markle dramatically declared back in 2020 that they were adopting a policy of "zero engagement" with the U.K. tabloids. But for whatever reason, the Duke of Sussex's spokesperson decided to shoot down this birthday invitation story.
"In response to U.K. media headlines, there has been no contact regarding an invitation to His Majesty's upcoming birthday," the spokesperson told the Messenger. "It is disappointing the Sunday Times has misreported this story."
So was there really an invitation? It's unclear. But if Buckingham Palace sources offered up the detail to the Times to paint a sympathetic picture of Charles the effort backfired. Now coverage of the king's birthday isn't focused on him marking the day with an "innovative program to combat food waste," or various other low-key celebrations designed to spare taxpayers from financing another royal blowout. Instead, the headlines are about how Harry's Times response rudely overshadowed the King's Speech this week, and he supposedly doesn't care about Charles's snub anyway.
On the other hand, maybe drama would have been the theme of Charles's party even if both parties had stayed quiet. The New York Post is already reporting that Kate Middleton will not "hold out an olive branch" to Harry and Meghan in time for Christmas.
Source link