Religion
Jerusalem's church leaders call for sober Christmas in Holy Land as war rages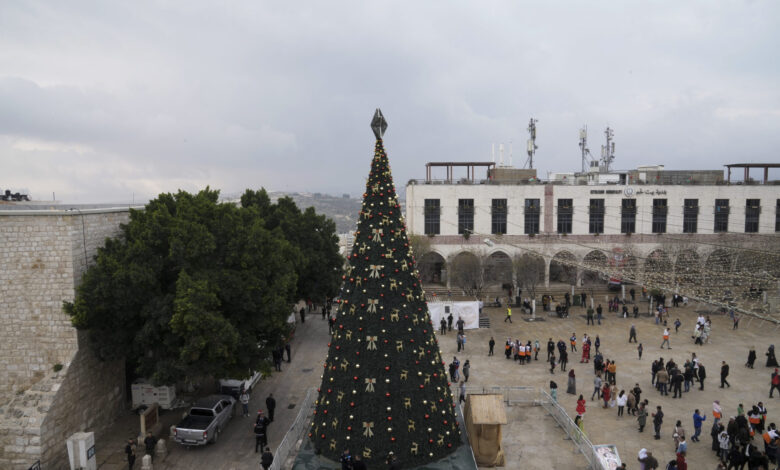 (RNS) — The top leaders of the major Christian denominations in Jerusalem have called on churches in the Holy Land to refrain from organizing any "unnecessarily festive" Advent and Christmas activities in solidarity with the victims of the ongoing war between Israel and Hamas in the Gaza Strip. 
In a statement Friday (Oct. 10), The Patriarchs and Heads of the Churches in Jerusalem invited the roughly 180,000 mostly Palestinian Christians in the Holy Land to focus on the spiritual meaning of Christmas and called them to pray for "the relief of the victims of this war and for those in dire need," as the period was filled with "sadness and pain."
"Thousands of innocent civilians, including women and children, have died or suffered serious injuries. Many more grieve over the loss of their homes, their loved ones, or the uncertain fate of those dear to them … Yet despite our repeated calls for a humanitarian ceasefire and a de-escalation of violence, the war continues," read the statement.
Every year, Advent and Christmas celebrations attract some 150,000 pilgrims to the Holy Land. Festivities in Haifa, Nazareth, Bethlehem's Church of the Nativity and Jerusalem's Christian Quarter are known for their festivities, including parades, bazaars, street concerts and light decorations.
Leaders of Jordan's Council of Churches issued a similar statement on Nov. 5, calling for the cancellation of Christmas celebrations in the kingdom in solidarity with the victims of the war in Gaza. The council urged Christians to hold sober celebrations and focus their efforts on prayer and religious rituals.
The Patriarchs and Heads of the Churches in Jerusalem have repeatedly called for de-escalation since the Hamas massacre of an estimated 1,200 people in Israel on Oct. 7 and amid Israel's ongoing retaliatory strikes in Gaza that have left as many as 10,000 Palestinians dead, mostly civilians.
On Oct. 13, the ecumenical group of leaders denounced the evacuation of 1.1 million inhabitants of northern Gaza to the south within 24 hours. They also urged Israel and the international community to facilitate delivery of water, fuel supplies, food and medicines into the Gaza Strip.  
The Patriarchs and Heads of the Churches in Jerusalem also expressed shock after Israeli airstrikes hit the Orthodox Church compound of Saint Porphyrios in Gaza on Oct. 19, killing 18 and injuring 30. In a joint statement with the Archbishop of Canterbury, The Patriarchs and Heads of the Churches in Jerusalem called for de-escalation and "an immediate humanitarian ceasefire."
Source link