News
Mindy Noce, Tim Scott's Girlfriend, Is Real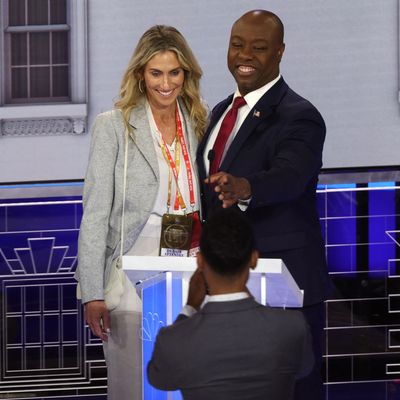 Tim Scott and his girlfriend, who apparently isn't imaginary.
Photo: Mike Segar/REUTERS
Is Tim Scott's presidential campaign floundering because he's single and the U.S. hasn't elected an unmarried person as president in 139 years? All signs point to no; his campaign is losing traction due to his lackluster debate performance and other strategic errors. But just to be sure, the South Carolina senator debuted his girlfriend onstage last night after the third GOP debate.
Scott, 57, has never been married, he's rarely mentioned a significant other during his decades in politics, and back in the '90s he described himself as a "proud" adult virgin. So naturally, when Scott launched his presidential campaign last spring, people started speculating about his personal life (and writing think pieces on whether voters actually care about Scott's single status, as well as what that says about us). The senator tried to shut down the chatter by alluding to a girlfriend in a May interview and then sharing a few details about his Christian, pickleball-playing partner with the Washington Post's Ben Terris last month. This strategy backfired badly; Terris reported that even some of his oldest friends weren't aware he was in a relationship, and Scott chatting about a woman he refused to identify raised suspicions that he had fabricated a fake lady friend for political purposes.
But it turns out Scott is actually dating a flesh-and-blood human woman. The Post reported:
Shortly after the presidential candidates had finished their closing remarks, Scott walked to the edge of the stage, greeting a blonde woman in a light-gray pantsuit. He escorted her to the stage and held her close as they smiled together and posed for photos, at the same time other candidates appeared with their families.

Reporters and audience members were quick to notice the pair held hands at one point. Who could she be, they wondered?
The Scott campaign said the woman's name is Mindy and confirmed that she is the senator's girlfriend. After some online digging, reporters identified her as Mindy Noce, a design and renovations manager for a real-estate company in Charleston and a mother of three. Scott didn't add much when asked about Noce after the debate.
"She was at my kickoff when I announced my candidacy back in May," he told ABC News. "So the good news is we continue to have a healthy relationship, thankfully, both love the Lord and have a healthy respect for one another, and I tell you, we have a lot of fun together."
While this is, indeed, good news for the senator personally, it probably won't help his campaign. He's in sixth place in the national polling averages of the GOP primary candidates, and he barely qualified for this week's debate. Unless he gets a sudden swell of support from GOP voters who've been waiting for confirmation that he's not single, Scott's candidacy is not long for this world. But hey, at least we finally have some closure in the 2024 Republican primary's second weirdest subplot, behind the mystery of Ron DeSantis's high-heel boots.