Crypto
Here's what happened in crypto today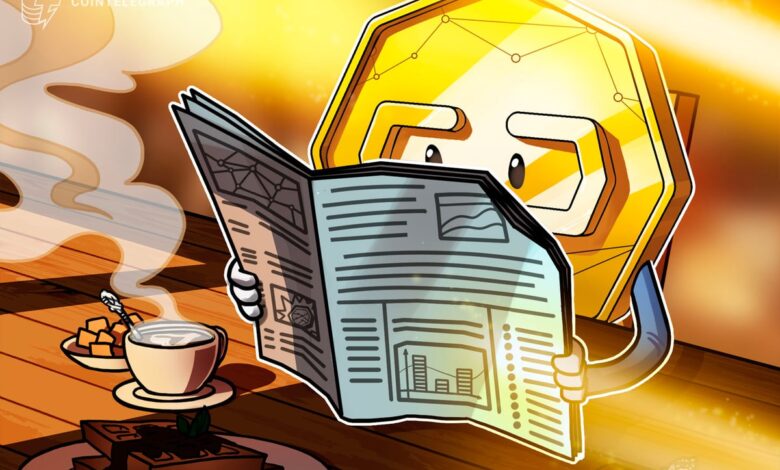 Crypto lender Hodlnaut is officially entering liquidation, according to the company's interim judicial manager. Over $100 million in digital assets were transferred from a wallet belonging to crypto exchange Poloniex in what security firms believe to be a massive hack. Meanwhile, asset manager BlackRock has officially entered the race for a spot Ethereum exchange-traded fund (ETF) after a 19b-4 filing by Nasdaq was submitted to the securities regulator.
Hodlnaut to enter liquidation
The High Court of Singapore has ordered the liquidation of Hodlnaut, a digital asset lender that collapsed during crypto winter. 
The announcement came from Aaron Loh Cheng Lee, Hodlnaut's former interim judicial manager, in a letter that was posted on the website of EY. He and fellow interim judicial manager Ee Meng Yen Angela were discharged from their position and appointed as liquidators. 
Based in Singapore, Hodlnaut suspended deposits and withdrawals and withdrew its licensing application before federal regulators in August 2022. The decision to cease operations was due to "recent market conditions," referring to crypto winter. 
According to the Nov. 10 letter, Hodlnaut's creditors include 17,000 users. 
Poloniex exchange suffers $100M exploit, offers 5% bounty
A crypto wallet belonging to the digital asset exchange Poloniex has experienced suspicious outflows, as seen on blockchain explorer Etherscan. Blockchain security firms believe that the company was breached, leading to as much as $100 million in crypto being drained by the attackers. 
On Nov. 10, millions of crypto assets were transferred from an account labeled Poloniex 4 on Etherscan. Initial estimates of the losses were around $60 million. However, it was later determined that over $100 million was taken by the attackers.
According to blockchain security firm CertiK, the incident was likely a "private key compromise." The security firm also noted that the funds have already been transferred to four externally owned accounts (EOAs), with some accounts being swapped into Ether (ETH).
While the exchange has not published an official statement yet, Justin Sun, who acquired the exchange in 2019, posted on X (formerly Twitter) that the team is already investigating the hacking incident. According to Sun, they will fully reimburse the users affected by the breach.
Sun also offered a 5% white hat bounty to the Poloniex hacker. The executive said that they will give the attacker seven days to return the funds before they start working with law enforcement authorities.
BlackRock's spot Ethereum ETF plan is confirmed after Nasdaq filing
Blackrock's plans for a spot Ethereum exchange-traded fund (ETF) has now been confirmed, per a 19b-4 form filing submitted to the United States Securities and Exhange Commission on Nov. 9.
Nasdaq filed the 19b-4 form to securities regulator on behalf of the $9 trillion asset management firm for a proposed ETF called the "iShares Ethereum Trust."
UPDATE: BlackRock #Ethereum ETF confirmed. They just submitted a 19b-4 filing with Nasdaq pic.twitter.com/pLhuhhK7jo

— James Seyffart (@JSeyff) November 9, 2023
The move signals BlackRock's intention to expand beyond Bitcoin with its ETF aspirations.
Earlier on Nov. 9, it emerged that BlackRock registered corporate entity iShares Ethereum Trust in Delaware, the first hint that a spot Ethereum ETF filing could be imminent.
BlackRock registers iShares Ethereum Trust
U.S. asset manager BlackRock has made the first step in filing for a spot Ether (ETH) ETF. 
On Nov. 9, the asset manager registered an Ethereum trust in the American state of Delaware, with Daniel Schweiger registered as the agent. According to his LinkedIn account, Schweiger is a managing director at BlackRock. The new entity is called iShares Ethereum Trust. 
BlackRock has made first step towards filing for a spot Ether ETF. I just confirmed on the website myself. Nice catch by @SummersThings https://t.co/mLKIhKdiI6

— Eric Balchunas (@EricBalchunas) November 9, 2023
Ether's price soared on the news, eclipsing $2,000 for the first time since April.
BlackRock appears to be broadening its efforts in the crypto space. In June, it registered its Bitcoin (BTC) trust shortly before filing with the U.S. Securities and Exchange Commission for a spot Bitcoin ETF. 
This article does not contain investment advice or recommendations. Every investment and trading move involves risk, and readers should conduct their own research when making a decision.