News
Election Results Show Anti-Trans Candidates Lost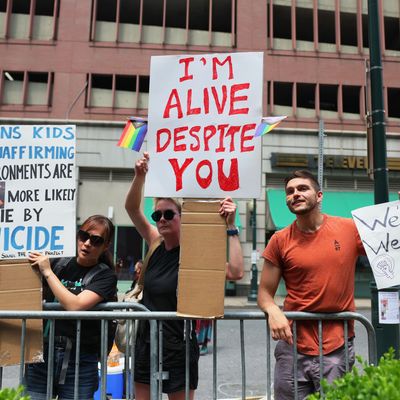 Photo: Michael M. Santiago/Getty Images
Far-right groups like Moms for Liberty say they speak for parents, a proposition that's always been dubious. As they push for book bans, whitewash American history, and try to drive LGBTQ+ teachers and students back into the closet, they've made plenty of enemies. Parents, especially mothers, have gone head to head with Moms for Liberty and the candidates it backs, stunting the far right's march through local school boards. That trend was particularly apparent on Tuesday evening when anti-diversity candidates lost a number of pivotal school-board races across the nation.
When Moms for Liberty assaults protections for LGBTQ+ children in public schools, and threatens to out trans children to families that may not be welcoming, they do so with specious arguments about "parental rights." Nobody wants to co-parent with the government, they argue, and parents have a right to know what their children are doing in school. Members have backed policies that would prevent teachers from covering LGBTQ+ topics in the classroom, ban trans girls from playing school sports, and notify parents if a child requests a name change at school. Those policies place LGBTQ+ students — and educators — at risk. Tuesday's school-board races tested the nation's priorities: Did voters want culture war or did they want candidates focused more on the work of education? The answer is a blow for Moms for Liberty and their larger platform.
In Virginia, the Republican governor, Glenn Youngkin, had credited his 2021 victory to the parental-rights movement. A day before the election, he was in Loudoun County, making another parental-rights appeal. Not only did liberals hold onto the school board there, Democrats kept the state Senate and flipped the state House thanks to an emphasis on protecting abortion rights. Conservatives fared little better elsewhere. Democrats swept school-board races in Central Bucks, a Pennsylvania community that, like Loudoun County, has been roiled by culture-war debates. The Daily Beast reported that in Iowa, voters in the Linn-Mar School District rejected three candidates backed by Moms for Liberty. The group's candidates also failed to win races in Mount Vernon, Cedar Rapids, and West Des Moines. Four Moms for Liberty candidates lost races in Minnesota's Rosemount-Apple Valley-Eagan School District.
Though this isn't a comprehensive accounting of all the school-board races that were up for grabs, the conservative losses do reinforce a trend. Moms for Liberty makes much of its gains, and with deep pockets and deep ties to the Republican Party, they aren't quite a paper tiger. Voters, though, aren't entirely sold on their agenda. Zoom out from school-board races, and the anti-trans backlash failed at the state level, too: In the Kentucky governor's race, Democrat Andy Beshear won reelection with a record that included vetoes of anti-trans bills. Beshear's positions on LGBTQ+ issues may not have mattered as much as his stance on protecting abortion rights or the handling of various crises facing his state.
Banning books about LGBTQ+ issues or racism is somewhat popular with Republican voters, but like much of the GOP's culture-war turn, they alienate other voters. According to polling from YouGov, independent and Democratic voters don't want to ban books from school libraries and are much less likely to think that certain topics should be banned from classrooms, too. Moms for Liberty and the parental rights cause they celebrate may appeal to the base, but it's not yet a winning formula. That's good news for parents, educators, and students alike.