Shopping
Best Krispy Kreme Coupons & Offers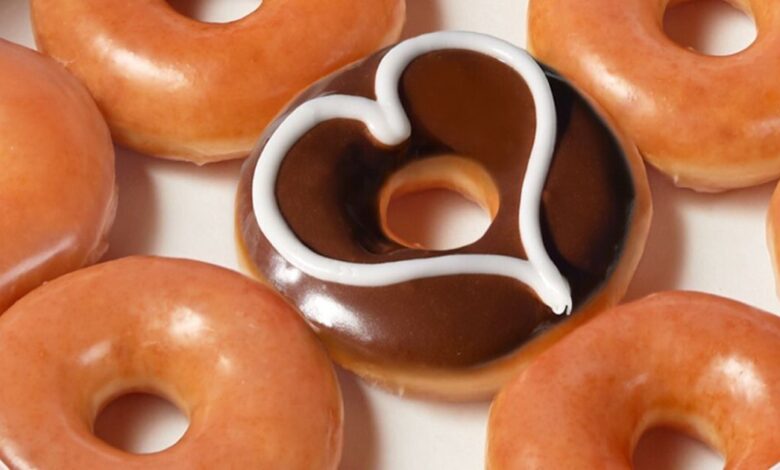 Looking for the latest Krispy Kreme coupon or free doughnut promo?
Krispy Kreme wants to share kindness (doughnuts) with the world!🍩
Plan to get up early on Monday, November 13th, and head to your local Krispy Kreme where you could score a FREE Dozen Original Glazed Doughnuts if you are one of the first 500 guests there!
Krispy Kreme wants to help inspire people to "connect with each other and share kindness" for World Kindness Day with this offer. They hope you'll share your free dozen doughnuts with others and be encouraged to do more small acts of kindness every day of the year.
There is no purchase necessary for this promotion. Just be one of the first 500 to arrive to score your free Krispy Kreme doughnuts!
Note that this is only available at participating Krispy Kreme locations. Be sure to check with your local store before heading out!
In the meantime, check out these new Krispy Kreme flavors for November…
The NEW Flavors of Fall Doughnuts are available to purchase individually or by the dozen for a limited time at your local Krispy Kreme restaurant and online for pickup or delivery.
This collection features FOUR tasty new menu additions as well as a couple of familiar fall favorites!
Take a closer look at the Flavors of Fall lineup…
Cinnamon Latte Lover
This doughnut is dipped in cinnamon icing and then topped with a dollop of cinnamon latte buttercream. It's finished with an autumnal leaf candy piece.
---
Spiced Apple Filled
A doughnut shell is stuffed with apple cider-flavored filling. Then the whole doughnut is coated in cinnamon & sugar.
---
Caramel Pecan Brownie
An Original Glazed Doughnut dipped in decadent brownie batter flavored icing, and topped with candied pecans and finished with a drizzle of caramel icing.
---
Classic Blackberry Crisp Filled
A doughnut shell stuffed with blackberry filling then dipped in cinnamon icing and topped with crunchy granola.
---
Pumpkin Spice Cake
Also part of the last batch of fall doughnuts, this fall classic consists of a glazed, old-fashioned pumpkin spice cake doughnut.
---
Chocolate Iced with Autumn Sprinkles
A festive twist on a timeless classic, this one features Krispy Kreme's Original Glazed Doughnut dipped in chocolate icing and topped with an autumn-themed brown, orange, and yellow sprinkle blend.
---
If you decide to purchase a specialty dozen it will include 2 Cinnamon Latte Lover, 2 Caramel Pecan Brownie, 2 Classic Blackberry Crisp Filled, 3 Spiced Apple Filled, and 3 Chocolate Iced with Autumn Sprinkles doughnuts.
You may also be able to find a freshly baked 6-pack of Pumpkin Spice Cake and Spice Apple Filled Doughnuts at select supermarkerts including Walmart, Kroger, Food Lion, Publix, Stater Brothers, and Wakefern stores.
---
Krispy Kreme wants you to treat every day like Christmas!
Fans of the Elf movie, be sure to get on the Nice List when you show up with a box of these fun & festive Elf-themed doughnuts. Each design is a nod to the heartwarming holiday film and we can't wait to try them all!
According to blogger, Markie_devo, no description or drop date is available for these yet, but he's expecting them to hit stores around the end of November.
And, you won't want to miss all the NEW Krispy Kreme Merch! Plus for a limited time, shipping is free on orders of $50 or more.
They have an assortment of fun tees, hoodies, reusable drinkware, and more all adorned with the Krispy Kreme logo or their iconic Hot Now neon signage for true Krispy Kreme fans to show their love.
---
Save even more with Krispy Kreme coupons + discounted gift cards!
For a limited time, Groupon is also offering a $25 Krispy Kreme Gift Card for just $20! These gift cards can be used with coupons, sales, and special offers for even more savings. This would be a great way to buy your office a morning treat or give the gift of doughnuts to someone with an upcoming birthday.
Costco members can also save 25% when they buy a four-pack of $15 Krispy Kreme E-gift cards (a $60 value) for just $44.99!
Sam's Club has a similar offer, where its members can get five $10 Krispy Kreme E-gift cards for just $37.50. Sam's Club is also offering five physical $10 Krispy Kreme gift cards for the same price with free shipping!
Get FREE Krispy Kreme doughnuts by joining Krispy Kreme Rewards today!
Did you know that Krispy Kreme Rewards members earn sweet freebies? If you have not yet joined Krispy Kreme Rewards, be sure to create an account now – it's free! You'll score a free doughnut just for signing up.
Plus, you'll also get a free doughnut of your choice AND a small coffee or fountain drink on your birthday! Rewards members also score exclusive offers and are the first to know about new products!
Source link