News
Could Kamala Harris Be a Cure for Biden 2024 Anxieties?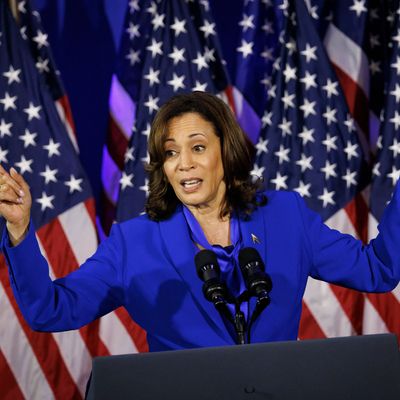 Kamala Harris barnstorms for abortion rights. More of this, please.
Photo: Ting Shen/Bloomberg via Getty Images
Despite Democrats' big wins in Tuesday's elections, Joe Biden's recent drop in popularity remains a big concern for everyone who fears a second Donald Trump administration. But there is a silver lining for Democrats in recent polling. Biden's much-maligned and even more ignored vice-president, Kamala Harris, is looking better, not just by comparison to the president generally (though their overall job-approval numbers are very similar), but by comparison to Biden in his key areas of weakness. According to the Los Angeles Times, Harris enjoys a 56 percent approval to 37 percent disapproval ratio among under-30 voters. She also has quite positive approval ratios among Black voters (66 percent approval to 26 percent disapproval) and Hispanic voters (52 percent approval to 42 percent disapproval).
Most intriguingly, as the recent New York Times–Siena College survey found, Harris has supporters Biden really needs:
While Mr. Biden doesn't fare all that much worse than his running mate, the top-line similarity obscures major differences in their support: A full 11 percent of Ms. Harris's would-be supporters do not back Mr. Biden, and two-thirds of them are either nonwhite or younger than 30.

As a result, Mr. Biden would lead by three points among registered voters and two points among likely voters across the battlegrounds, including leads in five of the six states, if he could regain the nonwhite and young voters who would be willing to vote for his own not-especially-popular vice president. His lead among Black, Hispanic and young voters would return to 2020 levels as well, at least among likely voters.
This sort of finding suggests that the Biden-Harris reelection campaign should deploy Harris more often and more visibly as it tries to shake perceptions that the administration is old and tired. After all, while Biden can perhaps improve perceptions of his policies and leadership style, the one thing we know for sure is that he'll still be an octogenarian in 2024. At 59, Harris is relatively youthful (she will turn 60 in October of next year), and she seems capable of identifying with multiple generations and racial and ethnic groups. She's already the administration's acknowledged chief advocate on the one major issue where voters decisively prefer Democrats: abortion rights. It stands to reason that she should be put in charge of improving the president's standing among Democrats who believe he's lost touch with their most pressing concerns.
A more active vice-president who is no longer considered an electoral handicap would solve another problem for the White House: It might end the interminable speculation over possible "replacement" candidates if something should happen to Biden. The reality is that if Biden is forced out of the race (presumably due to a health crisis, since it seems he won't throw in the towel over a few bad polls), it will likely occur when primary filing dates are past. It will simply be too late for Democratic elites and voters to rally around one of the many elected officials who have been mentioned as potential presidential candidates. Harris is the obvious replacement candidate if one is needed, and attempting to dislodge her from that position in the midst of a campaign year would likely produce a disaster far worse than any subpar general election performance.
The good news for anxious Democrats is that if push comes to shove, Harris is beginning to look like a presidential candidate who shares many of Biden's accomplishments without sharing all of his weaknesses. As a plan B option, she should be accepted without too much controversy. And as a plan A booster of Biden among young and non-white voters, she has some important work cut out for her.
Source link