Sports
With USC vs. ASU looming, 2 California HS teams beat Arizona teams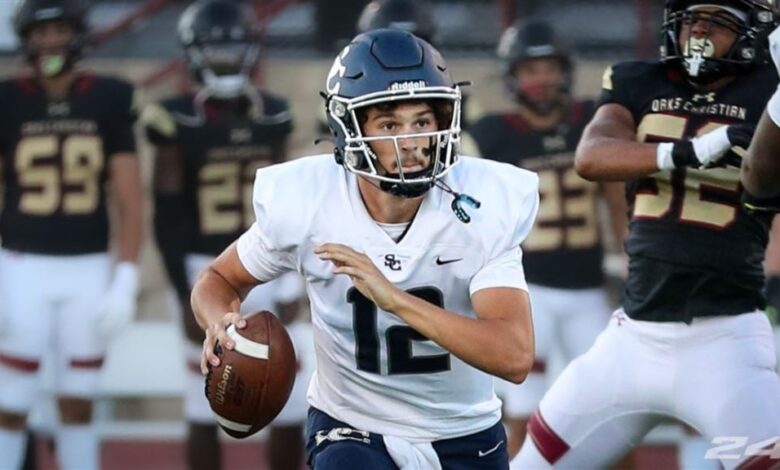 Ahead of this weekend's college football game between the University of Southern California and Arizona State University, two of the top California high school teams faced off against two of the top Arizona teams. In what may be a precursor to the result of USC vs. ASU this weekend, Sierra Canyon (Chatsworth, Calif.) and Centennial (Corona, Calif.) took down Saguaro (Scottsdale, Ariz.) and Liberty (Peoria, Ariz.), respectively.
We'll start with Sierra Canyon vs. Saguaro because this game was brutal. Saguaro is a historically dominant team that once again reached the Open Division championship last year, but with the departure of head coach Jason Mohns at the end of last season, there has been some transition. Nevertheless, between the classes of 2024 and 2025, there are seven three-star players on the Sabercats, who entered the evening 3-1.
No matter. It was a 63-6 beat-down in which the Trailblazers took a 28-0 lead in the first quarter and continued racking up points through the third quarter. Wyatt Becker, ranked a three-star QB by 247Sports and four-star on the 247 Composite Ranking, had twice as many total touchdowns (8) as he did incompletions (4) as he finished the game 18-22 with 364 yards, seven passing touchdowns and a rushing touchdown, according to Dan Lovi of the Los Angeles Daily News.
According to ArizonaVarsity, Saguaro's worst loss previously had been 65-0 in 2011. Friday's game comes close.
Across Los Angeles County, past Anaheim, and into Corona, No. 17 Liberty was putting up a much better fight against Centennial. The Lions took a 35-21 lead over Centennial at the beginning of the fourth quarter, and it looked like they may hold on to beat what is widely regarded as a top-3 team in California.
Arizona's optimism quickly turned as Centennial drove down the field in less than two minutes, with four-star QB Husan Longstreet connecting on a deep pass to three-star receiver Cory Butler, and then Cornell Hatcher ran in a 17-yard touchdown.
Hatcher has been playing absolutely out of his mind this month. Against No. 2 Bishop Gorman two weeks ago, he rushed for 233 yards and four touchdowns. This week, he one-upped himself and practically dragged Centennial to a win, rushing for 300 yards and four touchdowns, according to MaxPreps.
He scored that 17-yard TD to cut the deficit to a single touchdown. He punched in a one-yard touchdown that cut Liberty's lead to one point after a missed PAT. And then he punched home the game-winning 13-yard run that preceded a two-point conversion, leading the way for 21 Centennial points in the fourth quarter alone.
With his rushing and tough fourth-quarter defense that caught an interception midway through the fourth and then iced it at the end, the Huskies eked out the victory and improved to 3-2, with their two losses coming against top-2 teams in the Super 25. Liberty's loss is its first of the season.
As for USC and ASU, who will meet in Tempe on Saturday night? There's definitely a chance it'll look more like the Saguaro-Sierra Canyon game than that of Liberty-Centennial. Southern California will look to go 3-for-3 this weekend.
More:
61-yard field goal! Keelen Anderson sets Wyoming state record
Let's all appreciate Micah Hudson's athleticism for a moment