Sports
Second Nike Kickoff Classic kicks off first high school football week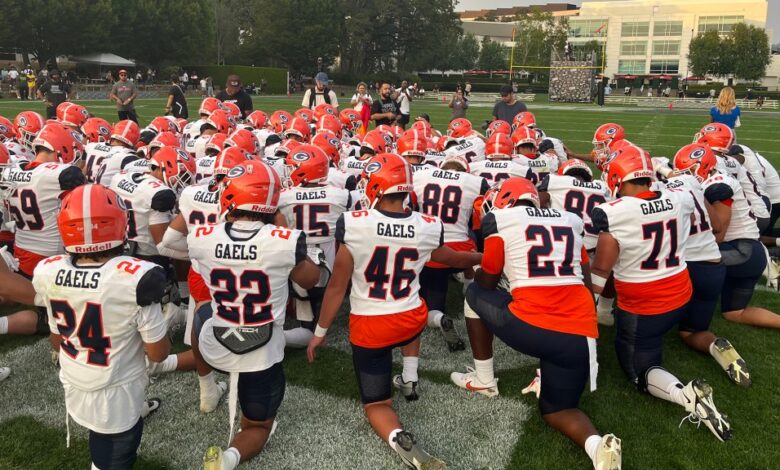 As high school football teams around the nation played their first games of the season, Nike and the NFL partnered for the second year in a row to host a formal kickoff experience at Nike headquarters in Oregon.
Headlined by the boys football and girls flag football teams of Bishop Gorman (Las Vegas) and Long Beach Poly (Calif.) High School and the girls flag football teams of Willowbrook High School (Villa Park, Ill.) and Irvington (N.Y.) High School, the Nike Kickoff Classic was an effort to celebrate youth football and increase opportunities for girls in the sport.
"Growing things from a grassroots standpoint shows that you care about the future of the game in a tangible way, and celebrating it by actually playing a game on (Nike's) campus is the best tribute to that," said Roman Oben, a former NFL player who is the vice president of NFL Football Development.
Three games were played on Thursday and Friday, but a key factor to the experience was being at Nike HQ. Retired NFL players and Nike athletes were in attendance as kids were involved in training, mentoring and activities like the uniform reveal. They got tours of the Nike facility and saw the business side of sports, first-hand exposure toward avenues to stay in the game even if they don't go pro.
Bishop Gorman head coach Brent Browner, whose team took down Long Beach Poly 60-15, called the experiences "poignant" and said that one of his college-bound athletes was in awe of the facilities.
"He said, 'Hey, what degree do I got to do to work here? He's going to go off and play college football and that was the impact,'" Browner recalled. "That was just amazing. That's probably the biggest blessing for a football game."
"You really feel like you're part of something that's become a game-changer in American sports," Oben said. "The cultural significance of the brand itself, they're always pushing barriers and innovating — one of the most important parts for [the student-athletes is] being on that campus."
Bobby Taylor, a former NFL player who is co-chair of the NFL Legends Youth Advisory Committee, said last year was his first time being at Nike headquarters, even though he was a Nike athlete.
"I couldn't have imagined playing in high school and being able to get the opportunity to do something like this," he said.
Events like these involving youth football athletes are significant focal points that highlight how things have evolved since Oben or Taylor were in the NFL. The league is hosting kickoff events alongside Nike throughout the country, so even teams not at the facility this weekend have a chance for a unique opener. (August is the NFL's Play Football Month, in which all 32 clubs host activities related to youth football.)
The Los Angeles Chargers, Los Angeles Rams, Las Vegas Raiders, Chicago Bears and New York Jets were sponsoring their respective local teams competing in the Nike Kickoff Classic.
The event is also a high-profile showcase for girls flag football.
There is a growing movement among high school sports associations to officially recognize flag football in the state-sanctioned landscape, and the Nike Kickoff Classic aims to facilitate more growth. Browner said Nike, led by league athletes and grassroots brand manager Matt James, has been actively working to grow flag football for years and can "galvanize" girls like Browner's daughter, who grew up watching football film with her dad and is now getting an experience to play on the Bishop Gorman flag football team.
Oben and Taylor said there is vocal support from the boys athletes at the event.
"I always think about the Olympics and when the women's basketball team is playing and then you see the guys — I mean, these are professional NBA guys watching the women, cheering them on and vice versa — it's a similar feeling for me when you see that," Oben pointed out. "The support of the game and putting on the same stage and seeing them compete."
"I hope these young women and young men cherish this opportunity, don't take it for granted, and hopefully as each year goes by, it gets bigger and better," Taylor said.
The games were aired on the NFL YouTube page. Replays can be found here.
Source link