Tech
How to Watch Every NFL Football Game on a Streaming Service (2023)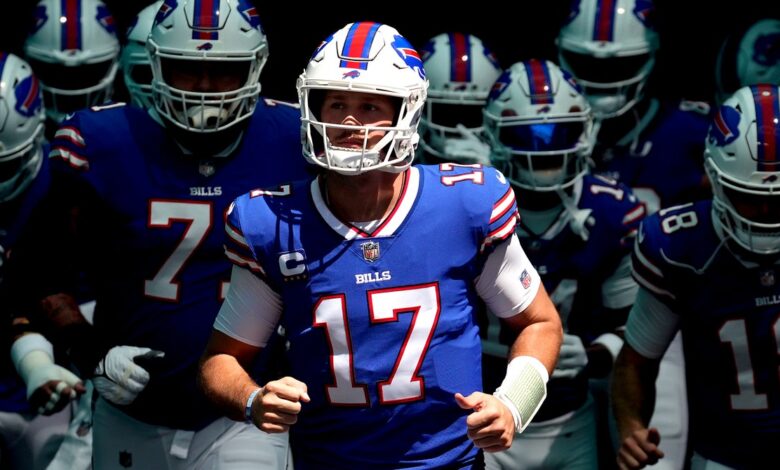 Out of all the major sports, NFL football (that's American gridiron football to you, world) has long been the toughest, most convoluted to watch unless you're following the home team using an antenna. Don't expect it to change anytime soon either—the NFL signed decade-long deals with several television networks last year. But you don't have to resort to a Hail Mary yet. We've searched and found the best places to stream NFL football games this season.
Be sure to check out our other buying guides, including the Best Streaming Devices, Best TVs, and Best Soundbars to watch the game in style.
Updated August 2023: We've updated the guide to include YouTube TV's takeover of NFL Sunday Ticket and the new version of NFL+.
Special offer for Gear readers: Get WIRED for just $5 ($25 off). This includes unlimited access to WIRED.com, full Gear coverage, and subscriber-only newsletters. Subscriptions help fund the work we do every day.
The Best Way to Stream the NFL
The biggest news of the NFL season is that YouTube is the new home of NFL Sunday Ticket, which allows you to watch every out-of-market NFL Sunday game. NFL Sunday Ticket has long been the only way to watch every Sunday game, which is important to people who follow a specific out-of-market team. Under the old regime, it was long plagued by technical issues, which YouTube has a chance to fix. 
It'll cost ya, though. You can snag the NFL Sunday Ticket and NFL RedZone on YouTube for $449 and $489, respectively. (RedZone lets you watch every touchdown and "key" play from every Sunday afternoon game.) There's no subscription required, and you can save $50 if you make the purchase before September 19. 
The other option is to use YouTube TV, which is a completely different service from Google. It's much more similar to traditional cable, with tons of different channels to choose from. On YouTube TV, the NFL Sunday Ticket costs $349, and the Sunday Ticket with NFL RedZone is $389. You'll also need a base subscription to YouTube TV, which is $73 per month. You can get a $50 discount on your tickets if you sign up before September 19. 
It's important to note that you do need another streaming service, cable, or an antenna for when your squad is being aired locally. The NFL makes decisions about which markets get which games each week, and you'll need to find a map of markets (506 Sports' NFL Maps is great for this) before kickoff to know which route to take.  
If you want to add local and prime-time NFL games under one login, you can add YouTube TV for $73 per month. That's a wee bit more affordable than its competitors, FuboTV and Hulu + Live TV, and offers much the same lineup of live broadcast channels as they do: CBS, NBC, Fox Sports, ABC, ESPN, and NFL Network. It costs extra to enable a 4K Add-On though. If there are non-sports-related reasons to consider YouTube TV, then it'll also enable you to watch the vast majority of NFL games just fine. If you're shopping solely to watch football, though, FuboTV (below) beats it out by a nose.
The Best NFL Streaming on Mobile and Tablets
For anyone catching the games on a mobile or tablet, you get a lot of bang from NFL+ for $7 per month or $50 per year. The league's offering replaced NFL Game Pass this past summer. There are a few major hangups to NFL+ that make it incomplete. NFL+ lets you livestream local and prime-time regular season and post-season games on mobile and tablet devices only. That means you can't watch it on your computer or your TV. "Local" games are those available on TV in your local market, so if you're a fan-in-exile living far away from your home team, you need the YouTube package above. 
At least there's a seven-day free trial for new subscribers. Upgrading to NFL+ Premium for $15 a month or $100 a year lets you replay old games ad-free and adds NFL RedZone. It's double the cost for not double the value.
Our Favorite Sports Streaming Package Has Football, Too
FuboTV for $75 per month is the most overtly sports-focused of the live television streaming networks. Even the basic tier gets you access to NBC, CBS, ABC, Fox Sports, NFL Network, and ESPN, so you can watch in-market Sunday afternoon and evening games, Monday night games, and Saturday games. Plus, a lot of other sports. (The only way to watch Thursday night games for anybody, not just FuboTV subscribers, is through Amazon Prime Video.) 
FuboTV has an Elite tier for $85 per month that gets you more than 130 events in 4K resolution and an Ultimate tier for $100 per month that adds NFL RedZone. 
Other Streaming Services to Know
The Fox Sports App and FoxSports.com require a cable or satellite television subscription, so they aren't proper replacements for traditional TV. They're more like add-ons you can use once you sign in using your television subscription account details. As has been the case for years now, Fox Sports broadcasts only Sunday afternoon games and some Saturday games during the regular season.
The ESPN App and ESPN.com also require a cable or satellite television subscription, so you need to sign in to your active television subscription account to watch live games on them. ESPN (almost entirely) plays Monday night games.
Source link