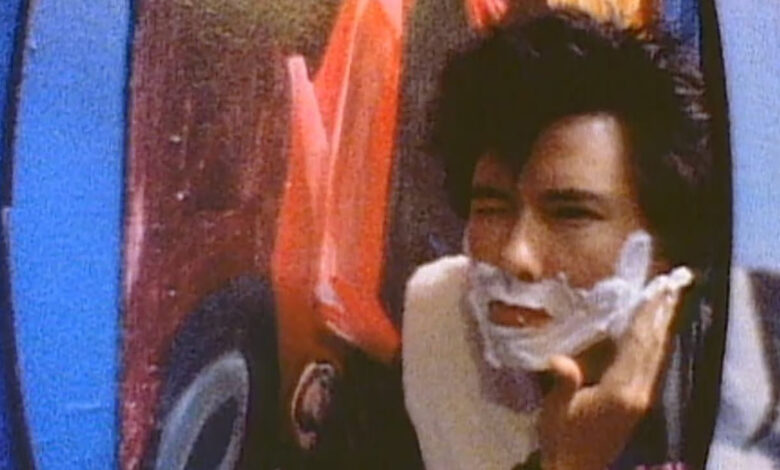 This article appeared in the July 20, 2023 edition of The Film Comment Letter, our free weekly newsletter featuring original film criticism and writing. Sign up for the Letter here.
Max (Monika Treut, 1992)
Summer 2023 has seen masc visibility enter the mainstream via Elliot Page's memoir Page Boy and Christine and the Queens's album Paranoia, Angels, True Love. Yet an urgency, both political and aesthetic, only grows: the need to know our history, and to come together against renewed forces of repression and erasure. Masc, a 19-film Pride-themed program for the Criterion Channel curated by Jenni Olson and Caden Mark Gardner, is both a vision of community-making and the fruit of an intergenerational, international community in itself—one that speaks to Olson's decades of work with festivals such as Frameline, the funders of a number of shorts in the program. Tracing continuities across more than 35 years of filmmaking, the series disarms the transphobic charge that transition and gender nonconformity are 21st-century phenomena. The films in the program spotlight legendary masc elders such as drag performer Stormé DeLarverie and singer Chavela Vargas, whose long lives in the community give hope.
That's crucial, as the program also addresses young viewers, vulnerable subjects of a genocidal moral panic, who might find in Céline Sciamma's 2011 feature Tomboy (which won the Berlinale's Teddy Award for LGBT-themed films) and the heart-melting animated short Pete (Bret "Brook" Parker, 2022) the room to breathe, to become, and to see themselves. For older viewers, these films affirm what so many adult subjects across the program state: that one's awareness of one's gender and sexual expansiveness often emerges in early youth, albeit without a visual or verbal language to encompass it. In her upcoming memoir, Love and Money, Sex and Death, McKenzie Wark writes that "the thing about becoming a transsexual is that most of us can't draw on much of a transsexual culture. We have to sort out ways to be by cutting and pasting from the cultural materials that are around us." Across Masc, we see filmmakers and subjects "cutting and pasting," and in doing so, manifesting masc cultural materials that we can draw on henceforth.
From the iconic white vest and short-shorts that main character Mickäel dons in Tomboy to Chavela's famous poncho, masculine finery is a uniting force for the gender-nonconforming masc folks, butch women, and trans men who traverse the films. Certain items and their dapper donning—the tie, the durag, the stud earring, the perfect dress shoe—pass like handshakes between the films. While this may suggest that masc is just a look, it becomes clear, over the course of this series, that being seen as masc and seeing as masc shape each other. Look out for the moment in the program's earliest entry, Sérgio Toledo's 1986 Vera, when its young protagonist, Bauer, deliberately sticks googly eyes onto a doll in the workshop of the orphanage where he spends his adolescence. Note also that Michelle Parkerson, director of the foundational 1987 doc Stormé: The Lady of the Jewel Box, about the life and times of DeLarverie, wittily named her production company "Eye of the Storm."
The slow exchange of glances between photographer JJ (T'Nia Miller) and professional dominatrix Elle (Robyn Kerr) in the urban rom-com Stud Life (Campbell X, 2012) is not just a generic meet-cute but the seed of the film's narrative structure, as the two characters work out a stud-femme reciprocity. JJ's YouTube videos give the viewer an insight into stud vulnerability as Elle herself learns to see beyond JJ's stone-butch front through hot role-play. This queer act of making each other up is also central to the short Vámonos (Marvin Lemus, 2015), where a grieving femme remembers a romantic night of dressing her masc lover in a suit, which spurs her to challenge her now-deceased partner's parents' insistence on burying them in a dress.
Making each other up is necessary because birth families and the state all too often deny queer folk the freedom to exist as we are. This is exemplified in Southern Comfort (Kate Davis, 2001), which takes its name from an annual trans conference that ran from 1991 to 2019, where the documentary's subjects, a group of trans men, met over the years. At the center of the group is Robert Eads, whose ovarian cancer prevents him from returning to the gathering—so a small network of younger trans men convene at his home in Toccoa, Georgia, two hours from Atlanta, to bring the conference to him. Robert, like many of the protagonists in Masc, is a storyteller and aphorist, and the film sets its pace by listening, attentive to the sometimes slower rhythms that come from living differently.
The films in the series also call the viewer to participate by listening, not only through remarkable monologues and voiceovers, but also through atmospheric soundtracks that convey the importance of music and its convivial spaces to queer life. In Stud Life, East London in the 2010s thrums with Jamaican dancehall and U.K. hip-hop, while in Daniel Peddle's 2005 New York feature The Aggressives, the Black masc subjects spit bars directly to camera and as MCs at drag balls. Chavela, Stormé, Lifetime Guarantee: Phranc's Adventures in Plastic (Lisa Udelson, 2001), and No Ordinary Man (Aisling Chin-Yee and Chase Joynt, 2020) all hail musicians as masc makers who hold community in queer concert—as exemplified by Stormé's long friendship with legendary Jewel Box Revue queen Lynne Carter, and Chavela's love-in with filmmaker Pedro Almodóvar, who presented her definitive comeback show in Paris in 1994.
By Hook or by Crook (Harry Dodge and Silas Howard, 2001) features not only a notably intimate voice-over by its protagonist, Shy (Howard), but also a cameo and an end-credits track (a cover of the Replacements song "Androgynous") by icon Joan Jett, who sets the loopy plot in motion with a direct-to-camera address as the survivor of a robbery. Inspired, Shy sets off for a life of crime in the big city, and on the way, rescues Valentine (Dodge) from a queerbashing. Valentine describes herself as both a "cowardly lion" and a "tin man," and draws Shy into her search for her birth mother. By Hook is an exemplary masc text, a kind of drag reinterpretation of the heist of Dog Day Afternoon and the quest that propels queer fave The Wizard of Oz. As in many of the films in Masc, home is found here on the margins, where queer kin daringly make themselves and each other anew.
---
So Mayer is a curator with the U.K.-based queer feminist film collective Club des Femmes, and the author of, among other books, Truth & Dare (2023), A Nazi Word for a Nazi Thing (2020), and Political Animals: The New Feminist Cinema (2015).
Source link